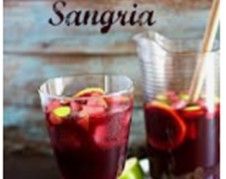 Prep Time: 30 min
Number of Servings: 8
Brief Description
Red wine, brandy and orange juice with apples and oranges.
Number of Servings:
Only quantities of ingredients are changed; recipe Directions below will not reflect those changes.
Ingredients:
1/2 - medium apple, cored and chopped into bite size pieces
1/2 - medium orange, leave rind on, slice and then quarter the slices
3 tablespoons - white sugar (OR brown sugar or 2 Tbsp. agave syrup)
3/4 cups - orange juice, or more, to taste
1/3 cups - brandy
1 bottles - 750 mL dry red wine - like cabernet sauvignon or pinot noir
- ice to chill
Directions:
Add apples, oranges and sugar to a large pitcher. Muddle with a muddler or wooden spoon for about a minute.
Add orange juice and brandy and muddle again for about 30 seconds.
Add wine and stir to combine; taste and adjust flavour to your liking (I usually add a couple more splashes of orange juice at this point).
Place in the refrigerator and let chill at least a couple of hours before serving to blend flavours.
Note: To make it Christmas worthy, substitute the orange juice for cranberry juice and omit apples; use the full orange and when adding the red wine add 1/2 cup of frozen cranberries.
Brief Description
Red wine, brandy and orange juice with apples and oranges.
Print Recipe