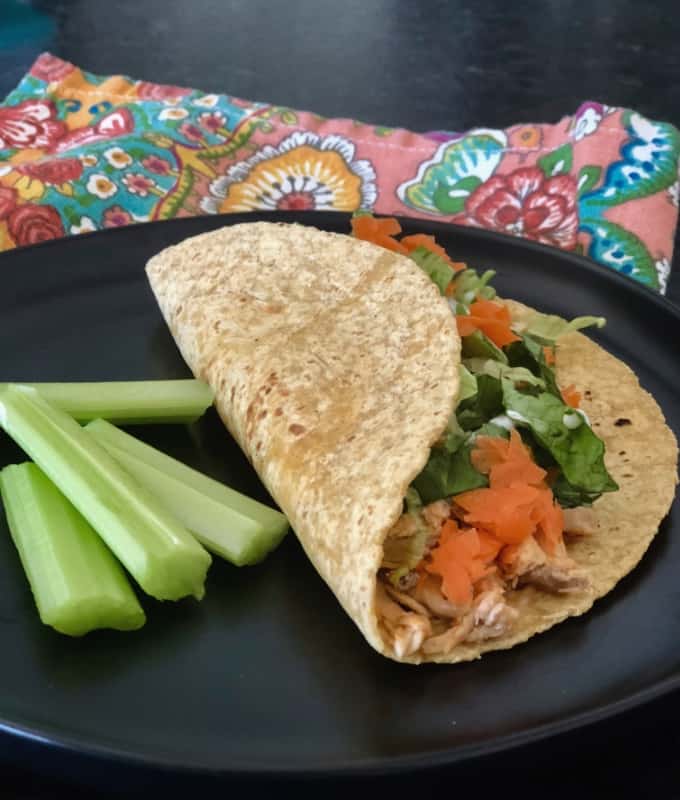 Prep Time: 5 min
Cook Time: 2 min
Number of Servings: 1
Number of Servings:
Only quantities of ingredients are changed; recipe Directions below will not reflect those changes.
Ingredients:
1/2 cups - chicken breast, shredded
2 teaspoons - hot sauce
1 - 8 inch low carb tortilla
1 tablespoons - mozzarella, shredded
2 tablespoons - carrot, shredded
2/3 cups - romaine lettuce, shredded
2 tablespoons - low fat ranch dressing, (or could replace with lite mayo)
Directions:
1. Place the shredded chicken in a bowl. Add the wing sauce and stir together.
2. Place the tortilla in a nonstick skillet over medium-high heat.
3. Sprinkle the blue cheese and chicken over the center of the tortilla. Heat for 2 minutes or until cheese melts.
4. Remove heated tortilla from the skillet and top with remaining ingredients.
5. Gently fold to create wrap. (Personal note: after folding, seal it by leaving it on the skillet for 20 seconds or so... also it crisps it a bit.)
Main Ingredient:
Chicken, Hot sauce
Notes
Original recipe also called for 1 tablespoon sliced green onion, but I don't prefer onions with my wrap so I nixed it. I also replaced blue cheese with mozzarella.
Print Recipe