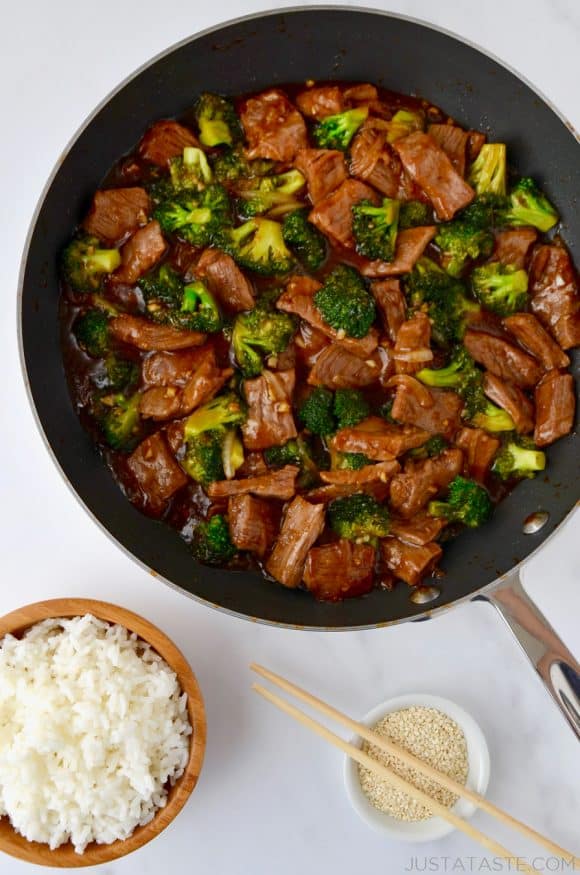 Prep Time: 10 min
Cook Time: 10 min
Number of Servings: 4
Brief Description
A fast, fresh recipe for Easy Beef and Broccoli - ready in 20 minutes or less.
Number of Servings:
Only quantities of ingredients are changed; recipe Directions below will not reflect those changes.
Ingredients:
3 tablespoons - cornstarch, divided
1 pounds - flank steak, cut into thin 1-inch pieces
1/2 cups - low sodium soy sauce
3 tablespoons - packed light brown sugar
1 tablespoons - minced garlic
2 teaspoons - grated fresh ginger
2 tablespoons - vegetable oil, divided
4 cups - small broccoli florets
1/2 cups - sliced white onion
- cooked rice or noodles, for serving with
Directions:
In a large bowl, whisk together 2 tablespoons of the cornstarch with 3 tablespoons water; add the beef to the bowl and toss to cover the beef.
In a separate small bowl, whisk together the remaining tablespoon of cornstarch with the soy sauce, brown sugar, garlic and ginger; set aside.
Heat a large nonstick skillet over medium heat. Add 1 tablespoon of the vegetable oil; once it is hot, add the beef and cook, stirring constantly until the beef is almost cooked through. Use a slotted spoon to transfer the beef to a plate and set aside.
Add the remaining tablespoon of oil to the pan and when it is hot, add the broccoli florets and sliced onions. Cook, stirring occasionally, until the broccoli is tender -- about 4 minutes. (To get bright green broccoli, blanch florets in boiling water, then drain and dry very well before adding to pan. If you blanch the broccoli first, reduce the cooking time for the broccoli to 2 minutes).
Return the beef to the pan then add the prepared sauce. Bring the mixture to a boil (it has to boil for the cornstarch to thicken the sauce) and cook, stirring, for 1 minute or until the sauce thickens slightly.
Serve with rice or noodles.
Brief Description
A fast, fresh recipe for Easy Beef and Broccoli - ready in 20 minutes or less.
Source
https://www.justataste.com/easy-beef-and-broccoli-recipe/
Print Recipe