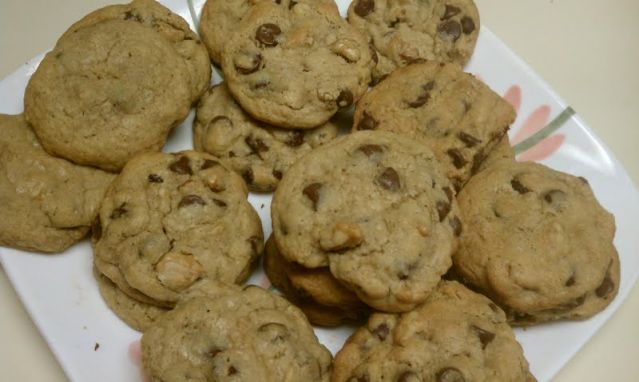 Prep Time: 20 min
Cook Time: 30 min
Number of Servings: 28
Brief Description
Copycat recipe for the great tasting cookies
Number of Servings:
Only quantities of ingredients are changed; recipe Directions below will not reflect those changes.
Ingredients:
1/2 cups - rolled oats
1 cups - unsalted butter, softened (2 sticks)
3/4 cups - light brown sugar, packed
3/4 cups - sugar
1 1/2 teaspoons - vanilla, 1.5 to 2 tsp
1/2 teaspoons - lemon juice
2 - large eggs
2 1/4 cups - unbleached all-purpose flour
1 1/2 teaspoons - baking soda
1 teaspoons - salt
1/4 teaspoons - cinnamon
3 cups - semi-sweet chocolate chips
1 cups - chopped walnuts
Directions:
1) Pulse oats in a food processor or blender until semi-fine or fine. Set aside.
2) Add butter, both sugars, vanilla and lemon juice to a large mixing bowl. Cream together using an electric hand mixer. Add eggs one at a time and mix until you have a smooth mixture. Be sure to scrape the bottom of the bowl with a spatula at least once.
3) In a small mixing bowl, add the oats, flour, baking soda, salt and cinnamon. Mix thoroughly with a rubber spatula or wooden spoon. Add the dry ingredients to the wet ingredients and mix with a spatula, being careful not to overmix. Drop in the chocolate chips and walnuts and mix until both are evenly distributed throughout the cookie dough. Again, be careful not to overmix or they will have a cake-like texture.
4) Refrigerate the cookie dough for at least 2 to 4 hours or overnight.
5) Using a large cookie scoop (3 tablespoons), scoop cookie dough onto a lined baking sheet at least 1.5 to 2 inches apart. Bake at 350°F for 14-16 minutes or until desired doneness. Allow to cool completely on a cooling rack if storing. Store in a sealed container with a slice of sandwich bread to ensure softness of cookies.
Brief Description
Copycat recipe for the great tasting cookies
Main Ingredient:
Chocolate chips
Notes
Tip: freeze cookie dough! After scooping portions of cookie dough, place baking sheet in the freezer. When the dough is completely frozen, place dough into zippered plastic bags and label them with the date, oven temperature and baking time.
Source
thelittlekitchen.net
Print Recipe