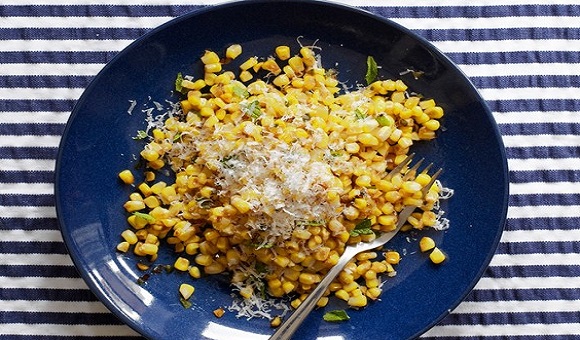 Prep Time: 20 min
Number of Servings: 6
Brief Description
Flavorful dish best served cold
Number of Servings:
Only quantities of ingredients are changed; recipe Directions below will not reflect those changes.
Ingredients:
2 tablespoons - Olive Oil
1 - Jalapeno, finely chopped
6 cups - Corn Kernels, shaved from about 12 ears
1 pinchs - Salt
1/4 cups - Fresh Mint, chopped
2 tablespoons - Balsamic Vinegar
1/3 cups - Parmesan Cheese, freshly grated
Directions:
1. Heat oil in a large skillet set over low heat. Add jalapeño and sauté 2 minutes. Increase heat to medium, add corn and salt and cook, stirring occasionally, 5 minutes.
2. In a large bowl, toss corn, mint and vinegar. Add Parmesan and toss again. Serve cold or at room temperature.
Brief Description
Flavorful dish best served cold
Source
WSJ Off Duty, 7/13/2013, by Julia Reed
Print Recipe