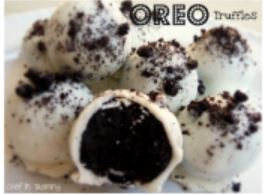 Prep Time: 45 min
Number of Servings: 36
Brief Description
Oreo filled truffles dipped in white chocolate.
Number of Servings:
Only quantities of ingredients are changed; recipe Directions below will not reflect those changes.
Ingredients:
1 packages - Double-Stuffed Oreos
4 ounces - to 8 ounces cream cheese, I like the consistency best with just 4 ounces
- almond bark dipping chocolate, almond bark hardens faster and doesn't melt as easy as chocolate chips after setting up
Directions:
Chop Oreos up finely in a food processor. Save some of the finely crushed Oreos for garnish later, and set it aside. You don't need too much for this.
With hands (or a spoon - I think the hands are faster), mash softened cream cheese and crushed Oreos until well combined.
Roll into 1-inch balls and place on a wax-covered cookie sheet; put in freezer for 15 minutes.
While balls are in freezer, melt chocolate according to directions.
Pull Oreo Truffles out of freezer and dip into chocolate. Garnish with reserved Oreo crumbles before the chocolate sets up.
Let chocolate set up, refrigerate and enjoy!
Brief Description
Oreo filled truffles dipped in white chocolate.
Main Ingredient:
Oreo cookies
Print Recipe