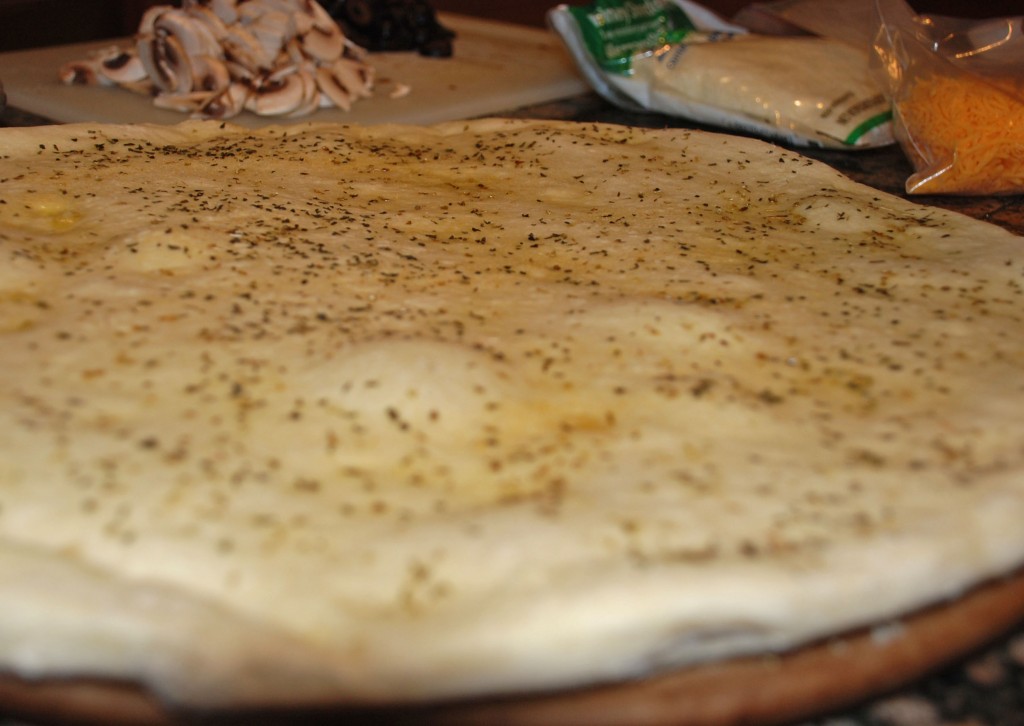 Prep Time: 1 hour(s) 15 min
Cook Time: 15 min
Number of Servings: 4
Brief Description
Our favorite go-to pizza crust recipe.
Number of Servings:
Only quantities of ingredients are changed; recipe Directions below will not reflect those changes.
Ingredients:
1 packages - Dry Yeast
1 cups - Warm Water
1/2 teaspoons - Salt
2 teaspoons - Olive Oil
2 1/2 cups - All-Purpose Flour
1 tablespoons - Cornmeal
Directions:
Dissolve yeast in warm water in warmed mixer bowl. Add salt, olive oil, and 1/2 of flour. Attach bowl and dough hook to mixer. Turn to speed 2 and mix about 1 minute.
Continuing on speed 2, add remaining flour, 1/2 cup at a time, and mix about 1 & 1/2 minutes, or until dough starts to clean sides of bowl. Knead on speed 2 about 2 minutes longer.
Place dough in greased bowl, turning to grease top. Cover. Let rise in warm place, free from draft, about 1 hour, or until doubled in bulk.
Preheat oven to 450 degrees F. Punch dough down. Brush 14-inch pizza pan with oil and sprinkle with cornmeal (or just sprinkle cornmeal on pizza stone). Press dough across bottom of pan, forming a collar around edge to hold toppings.
Brush a little olive oil over dough and sprinkle with Italian seasoning blend and/or garlic, as desired. Bake for 6-8 minutes.
Remove from oven and spread with pizza sauce, adding toppings as desired. Bake for another 6-8 minutes until starting to brown and baked through.
Brief Description
Our favorite go-to pizza crust recipe.
Prep Time:
1 hour(s) 15 min
Notes
Pizza for a Crowd:
Double the ingredients and prepare in a 6 quart mixer bowl.
Yield: 8 servings (1/4 pizza per serving).
Print Recipe