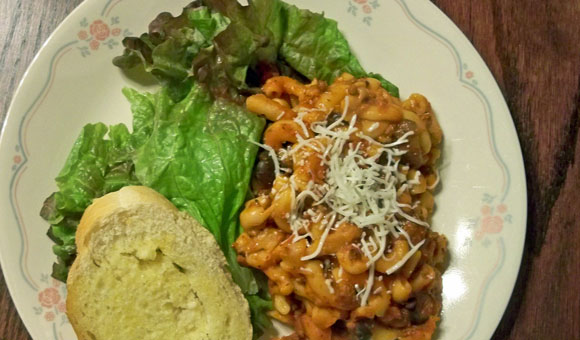 Prep Time: 20 min
Cook Time: 2 hour(s) 30 min
Number of Servings: 6
Brief Description
Goulash dish with mushrooms and olives.
Number of Servings:
Only quantities of ingredients are changed; recipe Directions below will not reflect those changes.
Ingredients:
1 pounds - ground beef
1 dashes - cayenne pepper
2 teaspoons - Worcestershire sauce
1 teaspoons - minced dried onion
1/2 teaspoons - paprika
1 dashes - garlic powder
- salt and pepper
2 1/2 cups - macaroni noodles, uncooked
2/3 cups - mushrooms, sliced
1/2 cups - black olives, sliced
32 ounces - spaghetti sauce
1/2 envelopes - Lipton onion soup mix
Directions:
Brown ground beef in a skillet until browned well and cooked through. Remove from heat and stir in cayenne pepper, Worcestershire sauce, dried onion, garlic powder, paprika, and salt and pepper.
Meanwhile, cook noodles (bring 2 quarts water to boil in a saucepan, add noodles and continue to boil for 8-10 minutes; drain water from noodles).
Stir together meat with noodles and add mushrooms, olives, spaghetti sauce, and onion soup mix.
After combining well, place in crock pot on low heat for 2 hours allowing flavors to thoroughly mix.
When serving, top with grated mozzarella or parmesan, if desired.
Brief Description
Goulash dish with mushrooms and olives.
Main Ingredient:
macaroni noodles
Cook Time:
2 hour(s) 30 min
Print Recipe