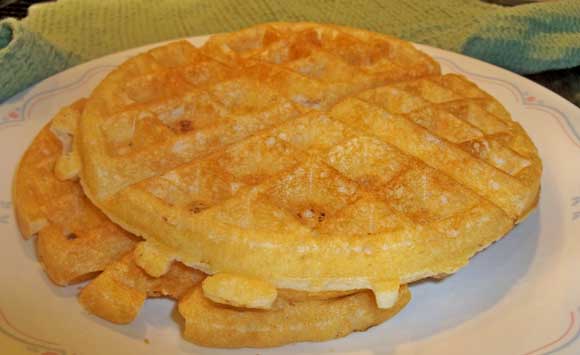 Prep Time: 10 min
Cook Time: 20 min
Number of Servings: 5
Brief Description
A delicious quick breakfast.
Number of Servings:
Only quantities of ingredients are changed; recipe Directions below will not reflect those changes.
Ingredients:
1 whole - Egg
2 cups - All-Purpose Flour
1/4 cups - Vegetable Oil
1 1/2 cups - Milk
3 tablespoons - Sugar
3 teaspoons - Baking Powder
1/4 teaspoons - Salt
1 teaspoons - Vanilla
Directions:
In medium bowl, beat egg until frothy. Add milk, oil and vanilla, and mix well; add dry ingredients and mix until mostly smooth (will be a little bit lumpy still).
Add 2/3 cups of batter to pre-heated waffle maker (spritzed with cooking spray if it has a tendency to stick a little) and spread evenly with rubber spatula.
Close unit and bake until ready. Carefully remove waffle (lightly re-oil if sticking occurs.) Repeat with remaining batter.