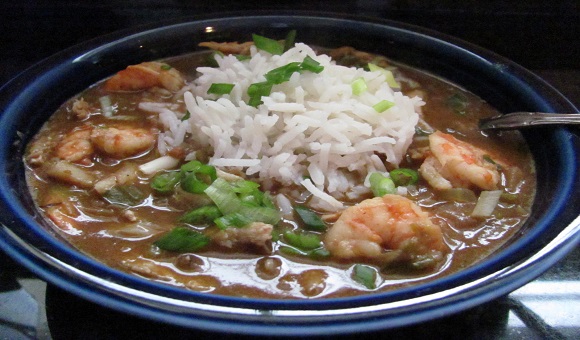 Prep Time: 15 min
Cook Time: 3 hour(s)
Number of Servings: 10
Brief Description
This dish is the heart and soul of New Orleans
Number of Servings:
Only quantities of ingredients are changed; recipe Directions below will not reflect those changes.
Ingredients:
2 quarts - Chicken Stock
1 cups - Onion, diced
1/2 cups - Celery, diced
1/2 cups - Green Bell Pepper, diced
3 tablespoons - Garlic, chopped
1 cups - Andouille Sausage, diced
1 cups - Tasso Ham, diced
8 ounces - White Wine
2 tablespoons - Thyme, chopped
2 tablespoons - Worcesthire
2 tablespoons - Creole Seasoning
8 ounces - Okra, sliced (fresh or frozen)
2 cups - Canola Oil
2 1/2 cups - All Purpose Flour
1 leaves - Bay Leaf
1 pounds - Lump Crab Meat
2 dozen - Shucked Oysters, with liquor
1 pounds - Shrimp, peeled, de-veined
Directions:
1) Pour oil in a heavy-bottom 4-quart sauce pan and place it over medium-low heat. When the oil is hot, start stirring in the flour with a wooden spoon. The mixture will be thick. Keep stirring continually with the wooden spoon over the heat so the roux cooks. The flour will gradually begin to brown. The roux can be used when the flour is light brown in color. The darker you cook the roux, the more flavor it will add to the gumbo.
2) In a medium sauté pan, render Andouille and Tasso until caramelized. The add your onions, peppers, and celery until lightly caramelized as well. Add chopped garlic and cook for 2-3 minutes.
3) Add this mixture and remaining ingredients into the sauce pot with the roux and gently stir until it starts to simmer. It will thicken as it simmers. Cook over very low heat for a minimum of 3 hours, stirring occasionally to ensure the bottom is not sticking or scorching. Now season to taste and add the seafood with juices. The seafood juices will thin the gumbo a bit but add a lot of flavor.
4) Serve over steamed rice and garnish with chopped scallions.
Brief Description
This dish is the heart and soul of New Orleans
Main Ingredient:
Andouille Sausage
Source
Sazerac in the Roosevelt New Orleans (Waldorf Astoria)
Print Recipe