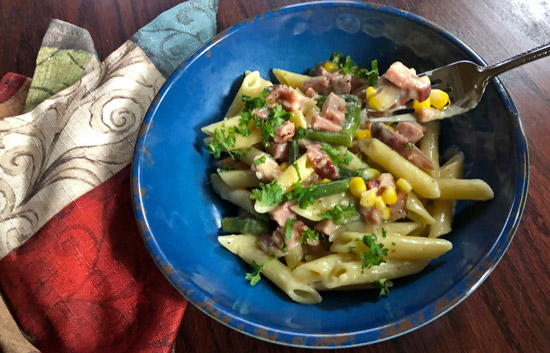 Prep Time: 30 min
Cook Time: 30 min
Number of Servings: 4
Brief Description
Ham, corn and green beans tossed with pasta in a creamy parmesan sauce.
Number of Servings:
Only quantities of ingredients are changed; recipe Directions below will not reflect those changes.
Ingredients:
3 tablespoons - butter
1 - small onion
1 cups - frozen green beans
12 ounces - wide egg noodles
3/4 cups - chicken broth
1 cups - ham, diced
1 cups - frozen corn
3/4 cups - half and half
dashes - lemon juice
- salt and ground pepper
- finely chopped parsley
- freshly grated Parmesan
Directions:
Bring large pot of water to boil and add some salt.
While it's coming to a boil, in a wide pan over medium-low heat, melt 2 tablespoons of the butter and saute the onion until it's very soft and starting to turn golden, 8-10 minutes.
When onions are done, add noodles into the boiling salted water and stir.
To the onions, add the ham, corn and green beans; turn up the heat and cook for 4-6 minutes until vegetables are starting to thaw and cook. Sprinkle 2 tablespoons of flour over the ingredients in the skillet and stir well; quickly add the warm broth and allow mixture to simmer until broth is reduced by about half.
Stir in the half-and-half and continue to simmer while adding the lemon juice, salt and pepper to taste (taste the mixture first to see if ham has already added enough salt).
Turn down the heat to low under the sauce; drain the pasta. Stir pasta into the sauce; stir in parmesan and parsley and taste. If needed, add a little more salt, pepper, lemon juice or a bit more half-and-half.
Serve in warm pasta bowls and pass more parmesan cheese and fresh parsley for topping.
Brief Description
Ham, corn and green beans tossed with pasta in a creamy parmesan sauce.
Print Recipe