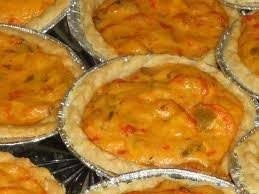 Prep Time: 20 min
Cook Time: 50 min
Number of Servings: 16
Brief Description
Individual crawfish filled pies.
Number of Servings:
Only quantities of ingredients are changed; recipe Directions below will not reflect those changes.
Ingredients:
- mini pie shells - about 16
1 bags - frozen seasoning blend
1 sticks - unsalted butter
2 cups - warmed half and half cream
1 cups - chopped fresh mushrooms, optional
1 pounds - thawed crawfish tails, Walmart is the only place I have found them from Louisiana
1/4 cups - flour
- shredded cheese, for topping
- seasoning to taste, Ex: Tony Chachere's
Directions:
Preheat oven to 350 F.
Take out mini pie shells and place them on a baking sheet so they have time to thaw.
Sauté seasoning blend (doesn't have to be thawed) in stick of butter on medium heat for a few minutes, then add in the flour and mushrooms and cook a few minutes more.
Add in the half and half cream – make sure it is not cold when you add it in.
Add in the crawfish – if the tails are larger, I will cut them into smaller pieces.
Season to taste and cook on medium-low heat for about 20 minutes, stirring occasionally.
While the crawfish filling is cooking, pre-bake mini pie shells for 8-10 minutes (this is so they are not raw on the bottom when you bake them with the crawfish filling).
Add crawfish filling to pie shells and top with shredded cheese of your preference.
Bake at 350 until crust turns brown, about 20-25 minutes.
Brief Description
Individual crawfish filled pies.
Print Recipe