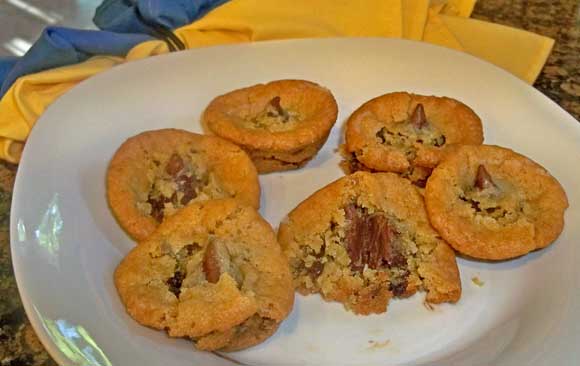 Prep Time: 10 min
Cook Time: 12 min
Number of Servings: 36
Brief Description
Quick and easy chocolatey dessert.
Number of Servings:
Only quantities of ingredients are changed; recipe Directions below will not reflect those changes.
Ingredients:
1 packages - refrigerated chocolate chip cookie dough
1 packages - chocolate kisses, such as Hershey's
Directions:
Preheat oven to 350 degrees F.
Cut cookie dough into 9 slices. Cut each circle into 4 pieces.
Place one piece of dough in each cup of a mini-muffin pan. Dip a tart shaper in flour and press into dough to form a cup (re-flour tart shaper after forming each cup). Place a chocolate kiss in each cup.
Bake for 10-12 minutes. Let cookies cool in pan 15 minutes before removing to cooling rack.
Brief Description
Quick and easy chocolatey dessert.
Main Ingredient:
chocolate chip cookie dough
Print Recipe