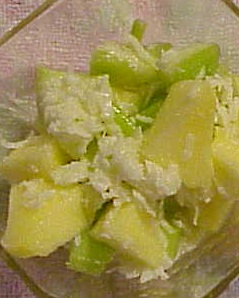 Prep Time: 15 min
Number of Servings: 2
Brief Description
A quick & healthy salad.
Number of Servings:
Only quantities of ingredients are changed; recipe Directions below will not reflect those changes.
Ingredients:
1 cups - diced tart apples
1/2 cups - celery, cut up
1/4 cups - coconut
1 tablespoons - lemon juice
1 tablespoons - cooking oil
4 tablespoons - orange juice
- pinch of salt
- pinch of paprika
Directions:
Mix together the apples, celery, & coconut. Sprinkle with the lemon juice.
Combine the orange juice, oil, salt & paprika; pour over other ingredients. Line a salad bowl with lettuce if you would like; pile the chilled salad in center. Good if dotted with a small amount of jelly - any flavor.
Brief Description
A quick & healthy salad.
Main Ingredient:
apples, celery, coconut
Notes
I took Home Economics in High School & this is one of the first things we made.
Print Recipe