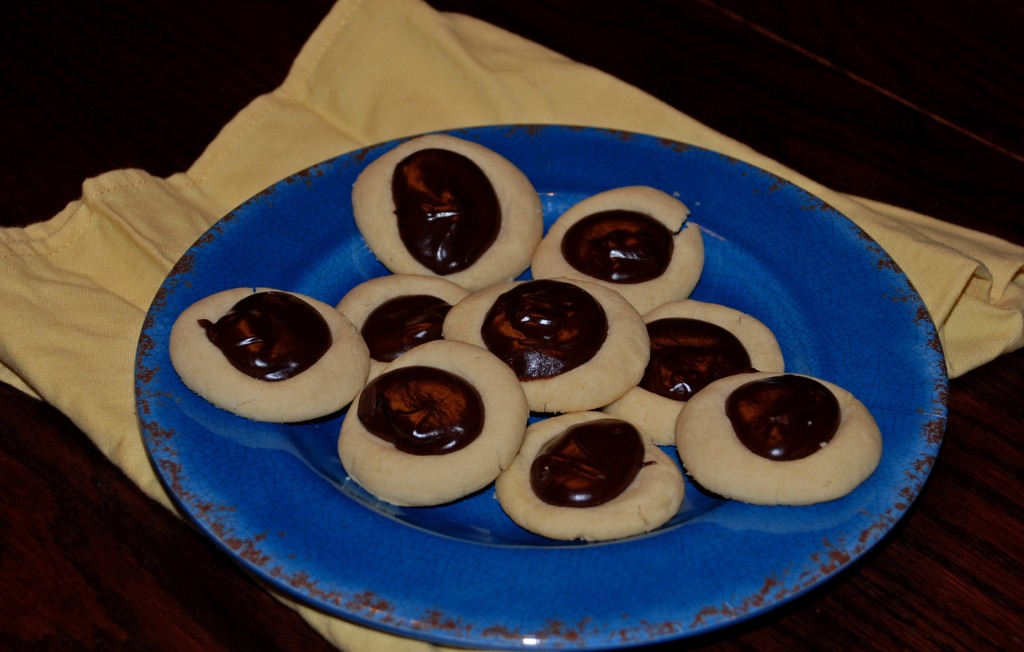 Prep Time: 30 min
Cook Time: 10 min
Number of Servings: 36
Brief Description
Chocolate-filled thumbprint chocolate chip cookies.
Number of Servings:
Only quantities of ingredients are changed; recipe Directions below will not reflect those changes.
Ingredients:
Cookies
1/2 cups - unsalted butter, at room temperature
1/2 cups - vegetable shortening
1/2 cups - light brown sugar
3 - egg yolks
2 tablespoons - milk
1 1/2 teaspoons - vanilla extract
1/4 teaspoons - salt
2 cups - flour
1/4 cups - chocolate chips, chopped
Chocolate Filling
1 1/2 cups - chocolate chips
1 tablespoons - shortening
2 tablespoons - light corn syrup
1 tablespoons - water
1 teaspoons - vanilla
Directions:
Preheat oven to 350 degrees F.
Blend together butter, shortening, and brown sugar until creamy and fluffy, scraping down the sides of the bowl as needed. Stir in egg yolks, milk, vanilla and salt; mix until well combined. With mixer on low speed, gradually add the flour, and mix until thoroughly blended.
Roll dough into 2-inch (walnut sized) balls and place 2 inches apart on ungreased cookie sheet. Press thumb into each ball to make indentation for filling. Bake 10-12 minutes until very lightly browned on bottom. Let cool.
For filling, melt chocolate chips with shortening (either in double boiler over hot water or in a microwave-proof glass bowl in the microwave). Stir frequently. Remove from heat and stir in corn syrup, water, and 1 teaspoon vanilla. Fill baked cookies with this chocolate sauce. Cool completely before storing.
Brief Description
Chocolate-filled thumbprint chocolate chip cookies.
Notes
These freeze well; make them ahead, and layer in an airtight container with waxed paper between layers to protect chocolate.
Source
adapted from browneyedbaker.com and Doris Keen
Print Recipe