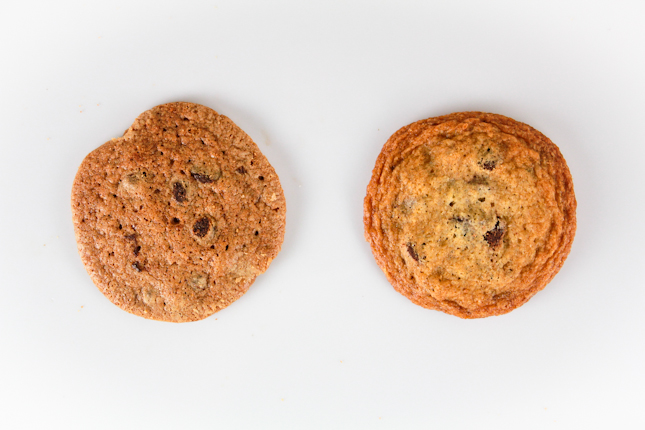 Prep Time: 15 min
Cook Time: 12 min
Number of Servings: 9
Brief Description
Tate's Recipe - Thin and Crispy
Number of Servings:
Only quantities of ingredients are changed; recipe Directions below will not reflect those changes.
Ingredients:
2 cups - AP Flour
1 teaspoons - Baking Soda
1 teaspoons - Salt
2 sticks - Butter
3/4 cups - Sugar
3/4 cups - Dark Brown Sugar, Packed
1 teaspoons - Water
1 teaspoons - Vanilla
2 - Large Eggs
2 cups - Chocolate Chips
Directions:
Preheat oven to 350°F.
Grease or line 2-3 cookie sheets with parchment paper.
In a large bowl, stir together flour, baking soda and salt.
In another large bowl, cream the butter and sugars, then add the water and vanilla. Mix until just combined.
Add eggs to the butter mixture and mix them lightly.
Stir in the flour mixture. When flour is mixed in, fold in the chocolate chips.
Drop 2 tablespoonfuls of the cookie dough 2-inches apart onto prepared cookie sheets. Make sure the cookie sheets are well greased. I like to use parchment paper.
Bake for 12-17 minutes or until the edges and centers of the cookies are golden brown.
Remove from oven and allow to cool on wire racks.
Brief Description
Tate's Recipe - Thin and Crispy
Main Ingredient:
Chocolate
Print Recipe