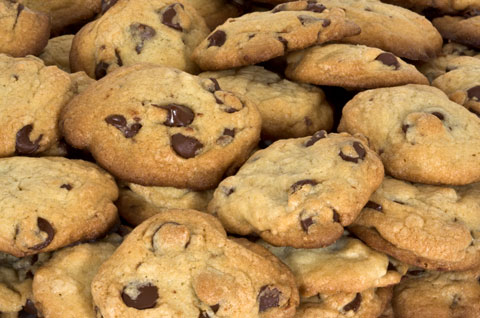 Prep Time: 15 min
Cook Time: 10 min
Number of Servings: 24
Brief Description
Vanilla Pudding Chocolate Chip Cookies
Number of Servings:
Only quantities of ingredients are changed; recipe Directions below will not reflect those changes.
Ingredients:
2 1/4 cups - AP Flour
1 teaspoons - Baking Soda
1 cups - Butter, Softened
3/4 cups - Brown Sugar, Packed
1/4 cups - Sugar - granulated
1 packages - Instant Jello Vanilla Pudding, 3.4oz pkg.
2 - Eggs
1 teaspoons - Vanilla
1 teaspoons - Salt
2 cups - Chocolate Chips, Semi Sweet
Directions:
Preheat oven to 350 degrees F.
Sift together the flour, salt and baking soda, set aside.
In a large bowl, cream together the butter, brown sugar, and white sugar.
Beat in the instant pudding mix until blended.
Stir in the eggs and vanilla. Blend in the flour mixture.
Finally, stir in the chocolate chips
Put dough in fridge over night
Drop cookies by rounded spoonfuls onto ungreased cookie sheets.
Place cookies into the fridge for about 5 minutes to cool the dough back down to reduce spreading (if you want a thin cookie skip this part)
Bake for 10 to 12 minutes in the preheated oven.
Brief Description
Vanilla Pudding Chocolate Chip Cookies
Main Ingredient:
Chocolate
Notes
Better to under cook them, they can dry out easily
Print Recipe