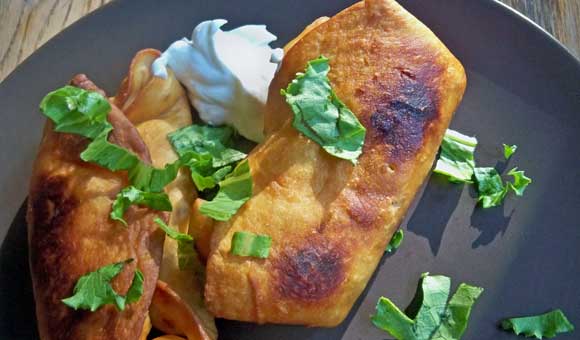 Prep Time: 20 min
Cook Time: 10 min
Number of Servings: 6
Brief Description
Tortillas filled with beef & cheese and fried golden.
Number of Servings:
Only quantities of ingredients are changed; recipe Directions below will not reflect those changes.
Ingredients:
12 whole - Flour Tortillas
1 cups - Longhorn Cheese, Grated
1 cups - Lettuce, Shredded
- Oil for frying
1/2 pints - Sour Cream
- Guacamole
Meat Filling:
1 1/2 pounds - Ground Beef
1 cloves - Garlic, Minced
1/4 cups - Dry Minced Onion
1 teaspoons - Oregano
1 teaspoons - Cumin
Directions:
Brown meat with garlic and onion. Add seasonings and stir well. Simmer over medium heat about 10 minutes.
Spoon 3 tablespoons meat filling and cheese and lettuce in center of each tortilla. Fold tortilla by bringing edges to center and overlapping one edge over the other. Secure with a toothpick.
Fry tortillas in 1 inch hot oil, frying 2 minutes on each side. Spread sour cream over each and top with guacamole.
Brief Description
Tortillas filled with beef & cheese and fried golden.
Main Ingredient:
ground beef
Notes
To fold the chimichangas without losing the filling: take one of the tortillas, place filling in middle, and roll it over once. Add some of your flour glue (a bit of flour mixed with water to make a "glue or paste") to the two ends, and fold them in towards the center. Roll it again, and use some more glue to seal off the edge. Use toothpick to secure until ready to fry. Repeat with the remaining tortillas. If your tortillas are breaking, you can warm them up in the microwave a bit first, to make them more pliable.
Source
Comida Sabrosa, Home-Style Southwestern Cooking, 1982
Print Recipe