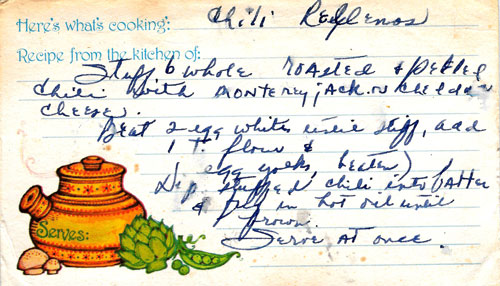 Prep Time: 30 min
Cook Time: 10 min
Number of Servings: 6
Brief Description
Fried stuffed chili peppers.
Number of Servings:
Only quantities of ingredients are changed; recipe Directions below will not reflect those changes.
Ingredients:
6 whole - roasted, peeled chilies
- grated Monterey Jack and cheddar cheese, for stuffing peppers
2 - eggs, divided
1 tablespoons - flour
- oil, for frying
Directions:
Stuff the peppers with the cheese.
Beat egg whites until stiff, add flour and beaten egg yolks.
Dip stuffed chilies into batter and fry in hot oil until brown. Serve at once.
Brief Description
Fried stuffed chili peppers.
Main Ingredient:
chili peppers
Print Recipe