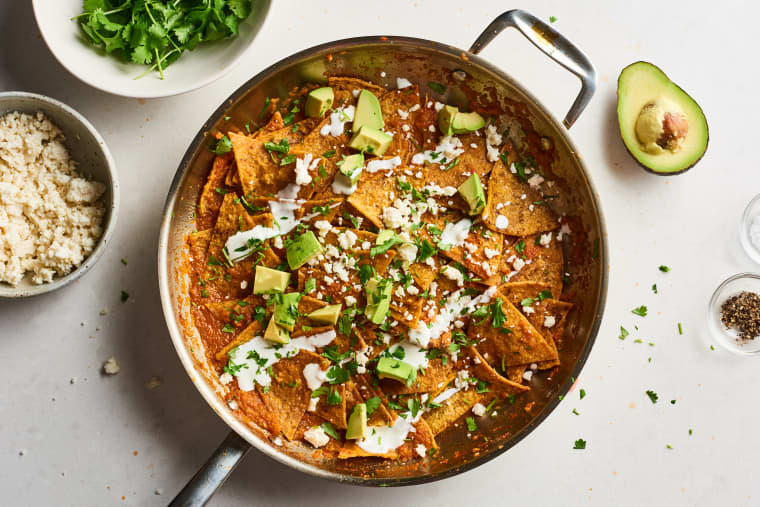 Ingredients:
1 cups - Sour Cream
3 tablespoons - Milk, 3-4 tbs
1 3/4 cups - Mexican salsa verde, Desert Pepper Trading Co or Frontera
1 3/4 cups - Reduced-sodium chicken broth, 14 fl oz
2 1/2 cups - Cooked chicken, skin removed, coarsely shredded; from 2-lb rotisserie chicken
1/4 teaspoons - Salt
1/4 teaspoons - Black Pepper
6 cups - Tortilla Chips, coarsely crushed (Not low-fat, baked or flavored)
1/2 cups - Feta, crumbled (2 oz)
1/4 cups - Fresh Cilantro, chopped
Directions:
Stir together sour cream and just enough milk to get a thick pourable consistency.
Bring salsa and broth to a boil in a 5- to 6-quart heavy pot over moderately high heat. Add chicken, salt and pepper and cook, stirring, until chicken is heated through, 1 to 2 minutes, then stir in 6 cups tortilla chips and cook until chips are softened (but not mushy), about 1 minute.
Transfer chilaquiles to a large platter. Sprinkle with feta, cilantro, and 1 cup broken chips and serve immediately, with thinned sour cream on the side.