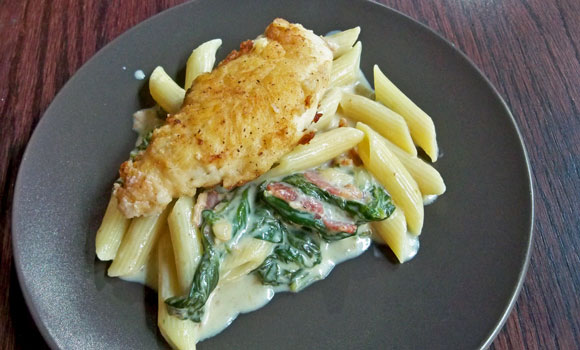 Prep Time: 15 min
Cook Time: 25 min
Number of Servings: 6
Brief Description
This delicious creamy and flavorful dish is reminiscent of fancy restaurant dishes.
Number of Servings:
Only quantities of ingredients are changed; recipe Directions below will not reflect those changes.
Ingredients:
1 pounds - chicken tenders
6 slices - bacon
6 ounces - pasta shells, uncooked
1 cups - flour
1/2 teaspoons - season salt, desired flavor
1/4 teaspoons - salt
1/4 teaspoons - garlic powder
1/4 teaspoons - white or black pepper
1 cups - heavy cream
3/4 cups - chicken broth
3/4 cups - white wine
1/2 bags - fresh spinach, about 8 ounces
1 teaspoons - garlic, minced
- parmesan cheese
Directions:
Cook pasta according to package directions.
In a large frying pan, cook bacon until crispy; remove bacon and set aside (crumble when cool enough).
In a bowl or on a large plate mix the flour, salts, pepper and garlic powder. Dredge the chicken pieces in the flour mixture and brown in the large frying pan in the bacon grease, turning pieces over to brown both sides (approximately 5 minutes per side). Remove chicken from pan, cover, and set aside.
Remove any excess fat from frying pan.
Saute minced garlic in pan for a minute. Then deglaze pan with the wine and broth (stir wine and broth in pan, scraping up bits and pieces from bottom of pan and incorporate into mixture). Add the spinach and cook until almost wilted.
Add cream and stir; add crumbled bacon back to pan. Simmer 5-10 minutes, stirring occasionally. Add the cooked, drained pasta and stir to coat.
Sprinkle with parmesan cheese; top with chicken tenders and serve.
Brief Description
This delicious creamy and flavorful dish is reminiscent of fancy restaurant dishes.
Notes
If sauce doesn't thicken enough, mix 1 tablespoon of corn starch with enough cold water to dissolve in a small dish, and add this mixture to the pan just before stirring in the pasta.
Evaporated milk or fat-free cream can be substituted for the heavy cream, if desired.
Source
adapted from grouprecipes.com
Print Recipe