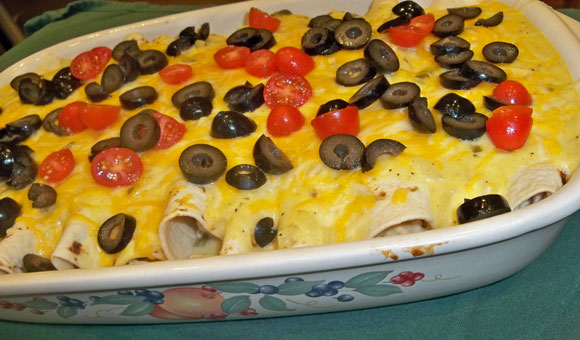 Prep Time: 25 min
Cook Time: 35 min
Number of Servings: 4
Number of Servings:
Only quantities of ingredients are changed; recipe Directions below will not reflect those changes.
Ingredients:
8 - 6-inch flour tortillas
1/2 cups - chopped onion
4 cloves - garlic, minced
1 teaspoons - ground coriander or cumin
1 teaspoons - fajita seasoning
1/4 teaspoons - pepper
2 tablespoons - margarine or butter
3 tablespoons - all-purpose flour
8 ounces - sour cream
2 cups - chicken broth
4 ounces - diced green chili peppers, drained
1 cups - shredded Monterrey Jack cheese
2 cups - cooked chopped chicken or turkey
- sliced pitted ripe olives, optional
- chopped tomatoes, optional
- sliced green onions, optional
Directions:
Wrap tortillas in foil. Heat in a 350 oven for 10-15 minutes or until softened.
For sauce, in a saucepan, cook onion, garlic, coriander, and pepper in margarine or butter until onion is tender. Stir flour into sour cream; add to onion mixture. Stir in broth slowly and whisk while adding to incorporate and allow to thicken; add chili peppers all at once. Cook and stir until thickened and bubbly. Remove from heat; stir in 1/2 cup of the cheese.
For filling, stir 1/2 cup of the sauce into chicken. Place about 1/4 cup filling atop each tortilla; roll up. Arrange rolls, seam side down, in a lightly greased 12x7.5x2-inch baking dish. Top with remaining sauce. Bake, covered, in a 350 oven about 35 minutes or until heated through.
Sprinkle with remaining cheese. Bake, uncovered, about 5 minutes more or until cheese melts. Sprinkle with olives, tomatoes, and green onions. Let stand 10 minutes.
Main Ingredient:
tortillas, chicken
Notes
Substitute chopped jalapeno peppers for the green chilies sometimes for a different taste; only use about half as much jalapeno as you would green chilies unless you like it really spicy.
I like to season my cooked chicken really well, too, with some Emeril's Essence seasoning or fajita seasoning or a mix of chili powder, cumin, & salt and pepper.
Source
Adapted from Better Homes & Garden
Print Recipe