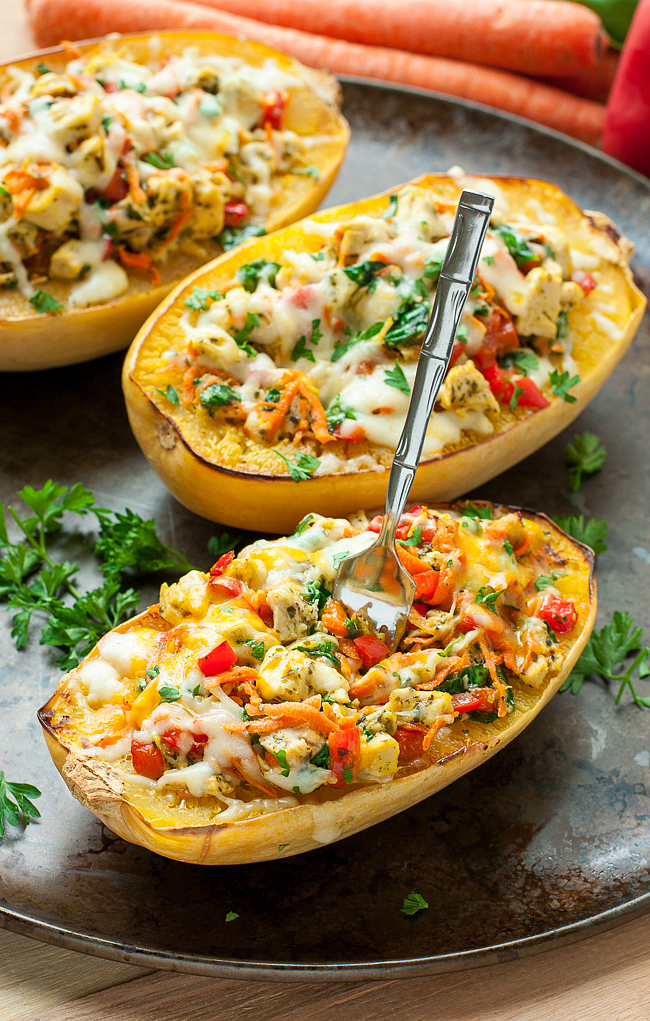 Prep Time: 15 min
Cook Time: 50 min
Number of Servings: 4
Brief Description
Spaghetti squash stuffed with chicken and veggies.
Number of Servings:
Only quantities of ingredients are changed; recipe Directions below will not reflect those changes.
Ingredients:
2 - medium spaghetti squash (about 1.5 lbs each and 6-7 inches long)
2 - chicken breasts
1/2 cups - pesto , or more to taste
1 cups - chopped fresh baby spinach
1 - extra large carrot, shredded
1 - medium red bell pepper pepper, chopped
6 ounces - to 8 oz. shredded cheese
1 tablespoons - fresh parsley , for garnish
Directions:
Pre-heat oven to 400 degrees F.
Slice spaghetti squash in half lengthwise and scoop out seeds. (To make it easier to cut, place each squash in the microwave for 5 minutes to soften it up so the knife will slide through more easily.) Rub cut side of squash with a little bit of olive oil to prevent sticking or place a little water inside the lipped or rimmed baking dish.
Place squash inside baking dish and roast face-down for 30 to 40 minutes or until tender and easily pierced with a fork.
Meanwhile, poach the chicken pieces or cook as you like - grill, pan-fry, roast - (or use leftover chicken from earlier in the week). Chop chicken into bite-sized pieces and toss with pesto. Set aside.
In a small pan, heat a little olive oil over medium-high heat and saute bell pepper and carrot for a few minutes until tender. Add spinach and pesto chicken and stir to wilt the spinach. Season with salt and pepper to taste.
Mix about half of the cheese in with the chicken and veggies. Save the rest for topping later.
To stuff the squash, fluff the squash first with a fork, and then simply pile on the pesto
chicken and veggies. Top with the remaining grated cheese and cover the baking dish in foil, leaving a little room at the top - tenting it over the filled squash so the cheese doesn't stick.
Bake at 350 degrees F for 20 to 30 minutes or until hot and bubbly. Garnish with fresh parsley and/or basil leaves and enjoy!
Brief Description
Spaghetti squash stuffed with chicken and veggies.
Main Ingredient:
spaghetti squash
Notes
Squash can be roasted and stored in fridge for a few days ahead if desired.
Source
https://peasandcrayons.com/2015/10/cheesy-pesto-chicken-and-veggie-stuffed-spaghetti-squash.html
Print Recipe