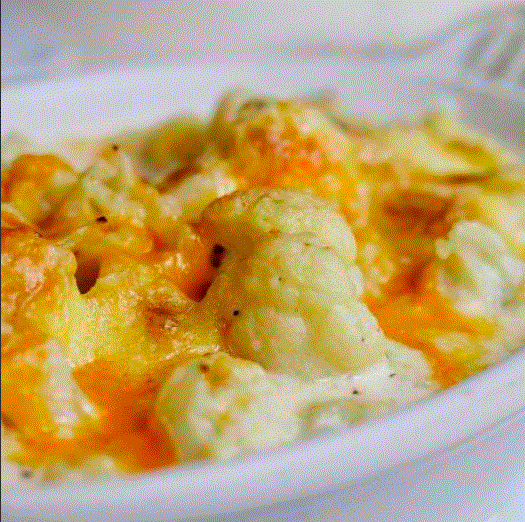 Prep Time: 10 min
Cook Time: 25 min
Number of Servings: 8
Brief Description
Ingredients
• 4 cups raw cauliflower florets
• 4 tablespoons butter
• 1/3 cup heavy whipping cream
• ¼ teaspoon salt
• ½ teaspoon pepper
• 6 ounces low fat pepper jack cheese
Number of Servings:
Only quantities of ingredients are changed; recipe Directions below will not reflect those changes.
Directions:
In a microwave safe dish, combine the cauliflower, butter, cream, salt and pepper and mix thoroughly.
Microwave on high for about 25 minutes, or until tender. (You can always start with 10 minutes, then 10 minutes, then 5 minutes if you think necessary. Some microwaves are different). (You want it soft enough to mash it with a fork. The longer it stays in the thicker the sauce.)
Remove from the microwave and mash with a fork or potato masher. Lay the slices of cheese across the top of the cauliflower. Microwave for another 2-3 minutes or until cheese is melted.
Serve hot.
Brief Description
Ingredients
• 4 cups raw cauliflower florets
• 4 tablespoons butter
• 1/3 cup heavy whipping cream
• ¼ teaspoon salt
• ½ teaspoon pepper
• 6 ounces low fat pepper jack cheese
Main Ingredient:
cauliflower
Print Recipe