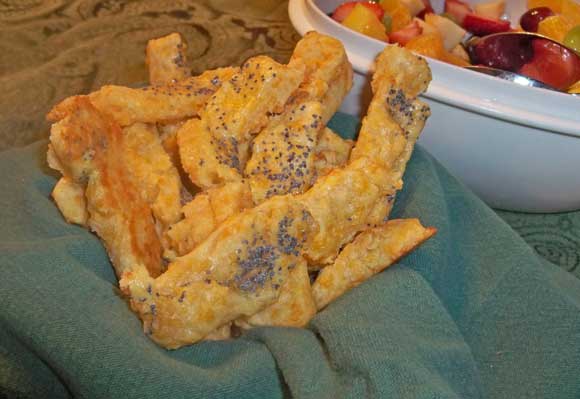 Prep Time: 20 min
Cook Time: 12 min
Number of Servings: 20
Brief Description
A pastry snack that is great with salads or a meal.
Number of Servings:
Only quantities of ingredients are changed; recipe Directions below will not reflect those changes.
Ingredients:
1 cups - Flour
1/4 teaspoons - Garlic Powder
1/8 teaspoons - Salt
1/8 teaspoons - Ground Red Pepper
1 cups - Cheddar or American Cheese
1/4 cups - Margarine or Butter
4 tablespoons - Cold Water
1 - Beaten Egg
2 tablespoons - Toasted Sesame Seed or Poppy Seed
Directions:
In a large mixing bowl combine flour, garlic powder, salt, and, if desired, red pepper. Cut in cheese and margarine or butter till pieces are the size of small peas. Sprinkle 1 tablespoon of the water over part of the mixture. Gently toss with a fork. Push to side of bowl. Repeat until all of flour mixture is moistened. Shape dough into a ball.
On a lightly floured surface, flatten dough with hands. Roll out dough from center to edges, forming a 10 inch square. Brush with egg. Sprinkle with sesame seed or poppy seed. Cut dough into 5x1/2 inch strips. Twist each strip. Place on lightly greased baking sheets. Bake in a 400 degree F oven for 10-12 minutes or until golden brown. Serve warm or cool. Makes 40.
Brief Description
A pastry snack that is great with salads or a meal.
Notes
Herbed Parmesan Twists: Prepare as above, except do not use red pepper, add 1/4 teaspoon of crushed dried oregano to the flour mixture and substitute 3 tablespoons grated Parmesan cheese for the sesame seed or poppy seed.
Source
Better Homes and Gardens New Cook Book
Print Recipe