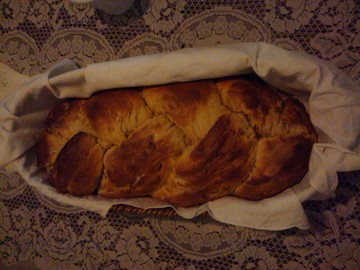 Prep Time: 3 hour(s) 30 min
Cook Time: 35 min
Number of Servings: 24
Brief Description
A Jewish holiday bread made with honey - this is one of the best recipes you will find out there!
Number of Servings:
Only quantities of ingredients are changed; recipe Directions below will not reflect those changes.
Ingredients:
Dry Ingredients
10 cups - Flour, (better for bread flour is best, but reg is fine, too)
1 tablespoons - Salt
Wet Ingredients
1/2 cups - Oil, Coconut Oil really gives a wonderful flavor
4 - Eggs - room temp, Farm fresh really makes a difference
1 1/2 cups - Honey
1 cups - Hot Water
6 3/4 teaspoons - Yeast - room temp, (or 3 packets) (plus 1 c. warm water)
Directions:
Heat oven to 200° and then turn off.
Mix half the flour - 5 cups - with the salt in a large bowl and set aside.
Start your yeast - Heat 1 c. of water 'til it's almost too hot to leave your finger in. Add yeast and stir gently until dissolved. Sprinkle about a tsp of sugar on top to help you know it is going to rise. It will puff up. Give it at least 5 min.
Mix the wet ingredients - eggs, oil, honey and hot water - then add yeast mixture and stir gently. Then add to dry ingredients. Mix gently - working out the lumps. Add 1-2 cups of flour at a time gently working in the flour. Eventually you will have to use your hands to finish it up until the dough is not sticky or glossy - then kneed for about 10 min. Use more or less flour as needed.
Divide dough into two greased bowls (I actually leave it in the same bowl I mixed it in as one piece), cover with a towel and place in warmed oven (make sure it is turned off ; )
Let rise one hour, then punch it down in the middle, recover and let rise 2 more hours.
Remove dough from oven. Heat oven to 350°. Take each half of dough and divide again into 3 pieces continuing to kneed. Braid the three pieces and pinch the ends down underneath the loaf. I start the braid in the middle going one way, then finish the other end. You will have two braided loaves. Brush with an egg wash (mix an egg with a little water). Bake for about 35 minutes.
Brief Description
A Jewish holiday bread made with honey - this is one of the best recipes you will find out there!
Main Ingredient:
Flour, honey, eggs, yeast
Prep Time:
3 hour(s) 30 min
Notes
I have been making this recipe for over 8 yrs. It took me around two yrs to feel like I had it down. If you are a bread maker, I'm sure you'll be fine. If you are not a bread maker like I was, I just encourage you to take your time and don't give yourself a hard time if it doesn't turn out "perfect". No matter how mine turned out - it still always tasted good.
**Also, this can easily be cut in half to make one loaf. I only make one unless I'm going to have a very big crowd**
**I have also frozen a pre-made loaf and frozen the dough - both turned out good**
This is an authentic Jewish recipe from Israel. I have not had a recipe, yet, that I like better - and my family and many others agree!
Print Recipe