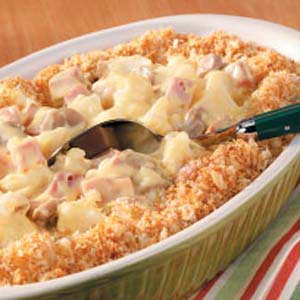 Prep Time: 20 min
Cook Time: 40 min
Number of Servings: 6
Brief Description
Comforting casserole.
Number of Servings:
Only quantities of ingredients are changed; recipe Directions below will not reflect those changes.
Ingredients:
4 cups - chopped fresh cauliflower
1/4 cups - butter, cubed
1/3 cups - all-purpose flour
2 cups - milk
1 cups - shredded cheddar cheese
1/2 cups - sour cream
2 cups - cubed fully cooked ham
4 1/2 ounces - sliced mushrooms, drained
Topping:
1 cups - soft bread crumbs
1 tablespoons - butter, melted
Directions:
Place cauliflower in a large saucepan; cover with 1 in. water. Bring to a boil. Reduce heat; cover and simmer for 5-10 minutes or until tender.
Meanwhile, in another large saucepan, melt butter. Stir in flour until smooth; gradually add milk. Bring to a boil; cook and stir for 2 minutes or until thickened. Remove from the heat. Stir in the cheese and sour cream until melted.
Drain cauliflower. In a large bowl, combine the cauliflower, ham and mushrooms. Add cheese sauce and toss to coat. Transfer to a greased 2-qt. baking dish.
Combine topping ingredients; sprinkle over casserole. Bake, uncovered, at 350° for 40-45 minutes or until heated through.