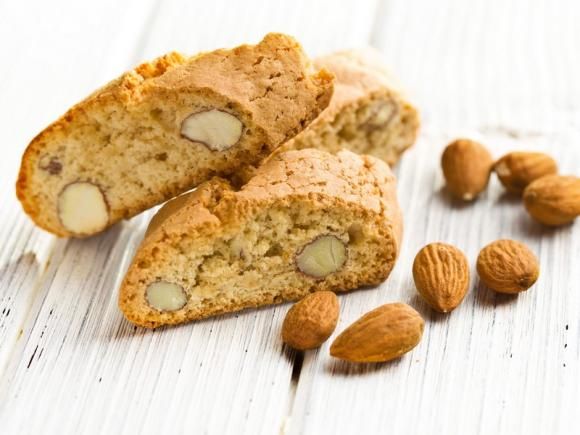 Prep Time: 30 min
Cook Time: 45 min
Number of Servings: 10
Number of Servings:
Only quantities of ingredients are changed; recipe Directions below will not reflect those changes.
Ingredients:
180 grams - Sugar
1 whole - Egg, Organic
1/2 grams - Baker's ammonia
265 grams - Flour
110 grams - Almonds
10 grams - Marsala or other liqueur wine
1/2 whole - Orange peel
1 pinchs - Fine salt
30 grams - Butter, Soft at room temp
1 whole - Egg yolk
Directions:
- place he sugar in a bowl and add the egg with a pinch of salt. Mix with a
spatula. Separately, combine the flour and baking powder. Mix and add the dry ingredients to the egg and sugar mixture.
- mix and add the soft butter. Knead with your hands and add the almonds, then add the Marsala wine and the grated rind of half an untreated orange. Knead until all the ingredients are well incorporated into the dough, then form a loaf and transfer it to the work surface.
- divide the loaf into two equal parts and make a long and rather narrow loaf from each. - place the loaves well spaced out on a baking sheet covered with parchment paper.
- brush your loaves with egg yolk.
- bake in a static oven preheated to 200 degrees for 20 minutes, then take them out of the oven and let them cool for a few minutes.
- then, with a knife with a serrated blade, cut the filoncino; slightly diagonally, creating cantucci of about 1,2 cm of thickness. Place them back on the baking sheet covered with greaseproof paper and toast them in a static oven preheated to 160° for 18 minutes.
Remove your cantucci from the oven and let them cool before enjoying them!