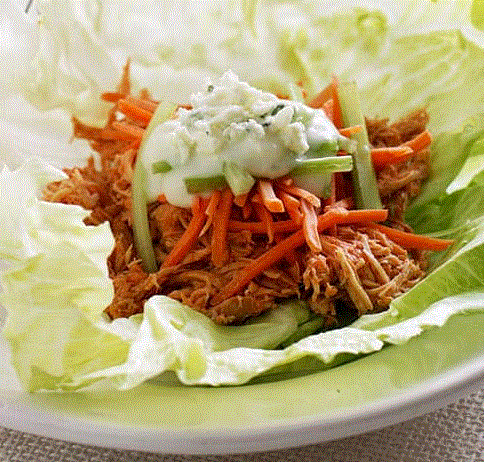 Prep Time: 10 min
Cook Time: 25 min
Number of Servings: 1
Brief Description
Ingredients
• 6 ounces chicken
• ½ cup bell pepper (chopped)
• ½ cup portabella mushroom (chopped)
• 3 Romaine lettuce pieces
• 2.5 tablespoons blue cheese crumbles
• 1 tablespoon olive oil
Number of Servings:
Only quantities of ingredients are changed; recipe Directions below will not reflect those changes.
Directions:
Coat chicken in 2 tablespoons of buffalo sauce then cook in over for 25 minutes at 375 degrees.
Sautee mushrooms and peppers in olive oil over medium heat.
Shred chicken when done.
Place chicken and veggies in lettuce boats.
Sprinkle blue cheese crumbles and ½ tablespoon of buffalo sauce of each one.
Brief Description
Ingredients
• 6 ounces chicken
• ½ cup bell pepper (chopped)
• ½ cup portabella mushroom (chopped)
• 3 Romaine lettuce pieces
• 2.5 tablespoons blue cheese crumbles
• 1 tablespoon olive oil
Print Recipe