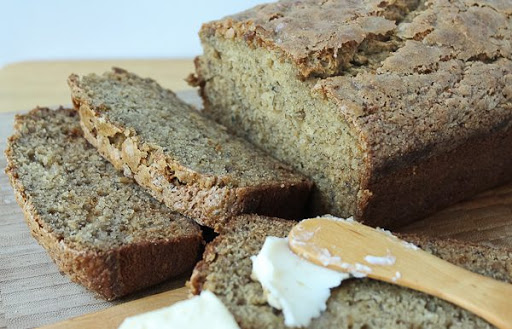 Number of Servings:
Brief Description
Renee-Best Banana Bread I have ever made!
Ingredients:
2 cups - all-purpose flour
1 teaspoons - baking powder
1 teaspoons - baking soda
1 teaspoons - kosher salt
8 tablespoons - unsalted butter
1 1/4 teaspoons - cardamom
2 cups - mashed, very ripe bananas, around 4 bananas
3/4 cups - dark brown sugar
2 - eggs
2 teaspoons - vanilla extract
1 tablespoons - white sugar
Directions:
1. Heat the oven to 350 degrees with the rack in the upper-middle position. Lightly coat a 9-by-5-inch loaf pan with butter. In a large bowl, whisk together the flour, baking powder, baking soda and salt.
2. In a medium saucepan over medium, melt the butter. Once melted, continue to cook, swirling the pan often, until the butter is fragrant and deep brown, 2 to 5 minutes. Remove pan from the heat and immediately whisk in the cardamom. Carefully add the bananas (the butter will sizzle and bubble up) and whisk until combined. Add the brown sugar, eggs and vanilla, then whisk until smooth. Add the banana mixture to the flour mixture and, using a silicone spatula, fold until just combined and no dry flour remains.
3. Transfer the batter to the prepared pan and sprinkle evenly with the white sugar. Bake until the loaf is well browned, the top is cracked and a toothpick inserted at the center comes out clean, 50 to 55 minutes, rotating the pan halfway through. Cool the bread in the pan on a wire rack for 10 minutes, then turn out the loaf and cool completely before serving. Cooled bread can be wrapped tightly and stored for up to 4 days or refrigerated for a week.
Brief Description
Renee-Best Banana Bread I have ever made!
Source
Milk Street Kitchen
Print Recipe