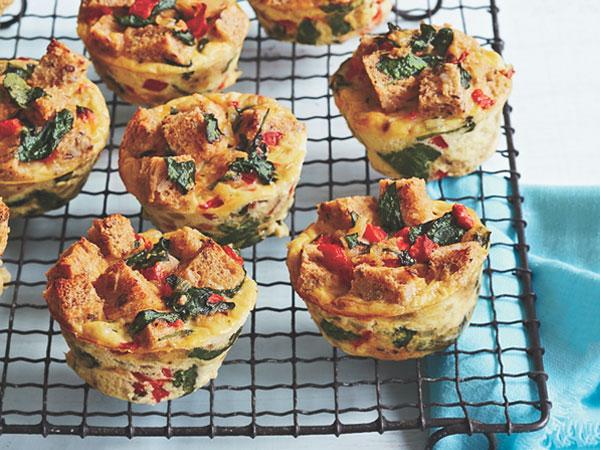 Prep Time: 10 min
Cook Time: 35 min
Number of Servings: 12
Brief Description
Breakfast-to-go
Number of Servings:
Only quantities of ingredients are changed; recipe Directions below will not reflect those changes.
Ingredients:
1 loaves - bakery whole wheat or whole grain bread
1 jars - (12 oz) roasted red bell peppers, rinsed & drained
1 cups - chopped onion
5 ounces - baby spinach, coarsely chopped
3 - large eggs
3 - large egg whites
1 1/2 cups - 2% milk
1 tablespoons - Dijon mustard (optional)
3 ounces - reduced-fat Cheddar, shredded (3/4 c)
Directions:
1. Heat oven to 350°F. Coat standard 12-cup muffin pan with baking spray. Remove crust from bread and cut into 1/2" cubes to get 3 3/4 cups (about 7 oz). Set aside. Reserve remaining bread for another use. Pat roasted peppers dry, remove any seeds, and dice. Set aside.
2. Heat medium skillet coated with olive oil spray over medium-high heat. Add onion and cook until golden, about 4 minutes. Add spinach and cook, stirring, until wilted, about 1 minute. Let cool.
3. Whisk together eggs, egg whites, milk, mustard (if using), and 1/4 tsp each salt and black pepper in large bowl. Stir in cheese, reserved peppers, and cooked spinach mixture. Gently fold in bread cubes and let stand 15 minutes.
4. Divide mixture evenly among prepared muffin cups. Bake until puffed and set, 20 to 25 minutes. Let stand 5 minutes before removing.
Brief Description
Breakfast-to-go
Notes
NUTRITION (per stuffin) 118 cal, 7 g pro, 14 g carb, 2 g fiber, 4 g fat, 1.5 g sat fat, 235 mg sodium
Print Recipe