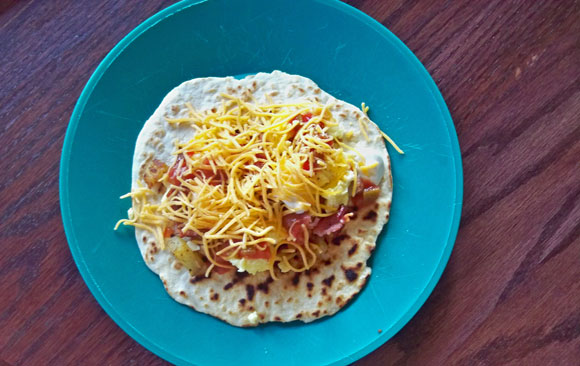 Prep Time: 15 min
Cook Time: 25 min
Number of Servings: 6
Brief Description
Filling breakfast burritos especially good with homemade tortillas.
Number of Servings:
Only quantities of ingredients are changed; recipe Directions below will not reflect those changes.
Ingredients:
Fried Potatoes
3 - russet potatoes, peeled, diced or shredded
2 tablespoons - vegetable oil, for frying
1 tablespoons - fajita or pepper seasoning mix
Scrambled Eggs
6 - eggs
1/4 cups - milk
- salt and pepper, to taste
Other Burrito Ingredients
12 - tortillas, flour or corn, as preferred
1 packages - center cut bacon, cooked, crumbled
2 cups - cheddar cheese, grated
- sour cream, for serving
- salsa, for serving
Directions:
For potatoes, heat oil in large skillet until hot; carefully add diced potatoes and sprinkle with seasonings. Cook over medium-high heat for about 15 minutes 'til browned evenly and cooked through, turning every 5-6 minutes.
While potatoes are cooking, beat eggs in bowl with milk; add salt and pepper, and cook over medium heat in a skillet to scramble. Also, cook bacon in skillet (or microwave).
To serve burritos, pile eggs, potatoes and bacon along with other desired toppings on tortilla and fold in half; enjoy!
Brief Description
Filling breakfast burritos especially good with homemade tortillas.
Notes
To be sure potatoes don't take too long to cook, you can put whole potatoes in microwave for 2 minutes on high, then let cool before peeling and dicing; they will fry up more quickly.
Using homemade tortillas will greatly increase the needed cooking time overall.
Source
For home made flour tortilla recipe see: http://dishdish.us/recipe/tortillas/.
Print Recipe