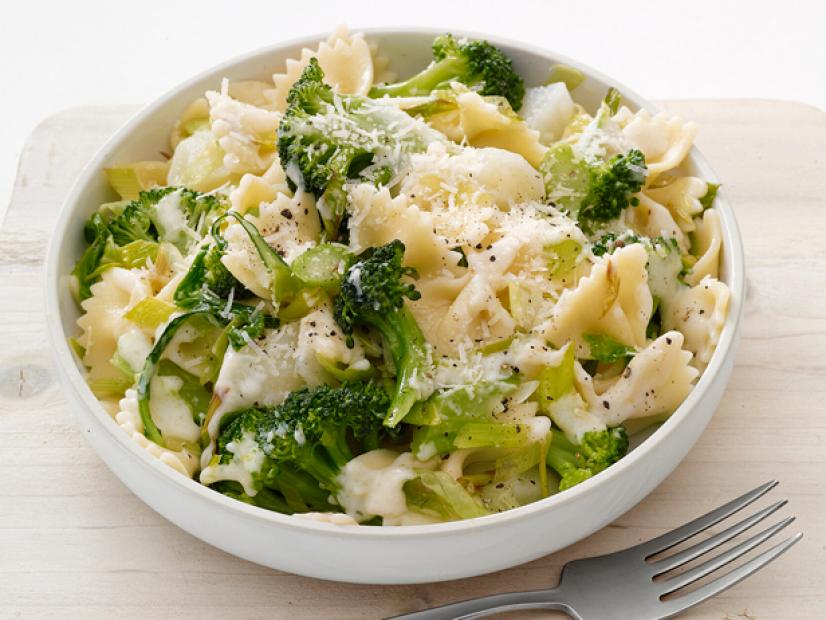 Prep Time: 10 min
Cook Time: 20 min
Number of Servings: 4
Brief Description
Comfort food with a bit of green veg.
Number of Servings:
Only quantities of ingredients are changed; recipe Directions below will not reflect those changes.
Ingredients:
- Kosher salt
2 - Potatoes, Medium size
1 bunches - broccoli, Large bunch
12 ounces - Bow-tie pasta
4 tablespoons - Unsalted butter
2 - Leeks, White and light green parts only, sliced into moons
- Freshly ground pepper
1 heads - Boston lettuce, Torn
1 1/2 cups - Fontina cheese, Grated
1/2 cups - Parmesan cheese, Grated, plus more for topping
Directions:
Bring a large pot of salted water to a boil. Add the potatoes and cook 10 minutes, then add the broccoli and pasta and book as the pasta label directs.
Meanwhile, melt the butter in a large skillet over medium heat. Add the leeks, salt and pepper to taste. Cook until soft, about 7 minutes.
Put the lettuce in a colander. Reserve 1 cup cooking water, then drain the pasta, broccoli and potatoes over the lettuce to wilt it. Return the pasta and vegetables to the pot.
Add the leeks to the pot and stir in enough of the cooking water to moisten. Stir in the cheeses and season with salt and pepper. Top with more parmesan.
Brief Description
Comfort food with a bit of green veg.
Notes
Ok to sub another pasta with a spoon-like shape, such as orchiette.
I tend to add more fontina than what is listed in the recipe.
Source
https://www.foodnetwork.com/recipes/food-network-kitchen/bow-tie-pasta-with-broccoli-and-potatoes-recipe-1973317
Print Recipe