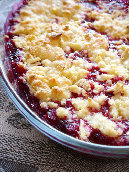 Cook Time: 25 min
Number of Servings: 6
Brief Description
http://grandpasberryfarm.com/berryfarm_004.htm
Number of Servings:
Only quantities of ingredients are changed; recipe Directions below will not reflect those changes.
Ingredients:
2 tablespoons - cornstarch
1/4 cups - cold water
1 1/2 cups - sugar
1 tablespoons - lemon juice
4 cups - blackberries, picked over, rinsed & drained
1 cups - flour
1 teaspoons - baking powder
1/2 teaspoons - salt
6 tablespoons - butter, cold, cut in small pieces
1/4 cups - boiling water
Directions:
Stir together cornstarch & 1/4 cup cold water until cornstarch is dissolved. Add 1 cup sugar, lemon juice, & berries; combine gently. Transfer to a cast iron skillet, about 8-inch.
In a bowl, combine the flour, remaining sugar, baking powder, & salt. Blend in the butter until the mixture resembles coarse meal. Add 1/4 cup boiling water & stir the mixture until a soft dough is formed.
Bring berry mixture to a boil, stirring. Drop spoonfuls of the dough carefully onto the boiling mixture, and bake the cobbler on a baking sheet (line with foil to avoid a mess) in the middle of a preheated 400° oven for 20 to 25 minutes or until the topping is golden. Serve warm with vanilla ice cream or whipped cream.
Brief Description
http://grandpasberryfarm.com/berryfarm_004.htm
Main Ingredient:
Blackberries
Source
Grandpas' Berry Farm
Print Recipe