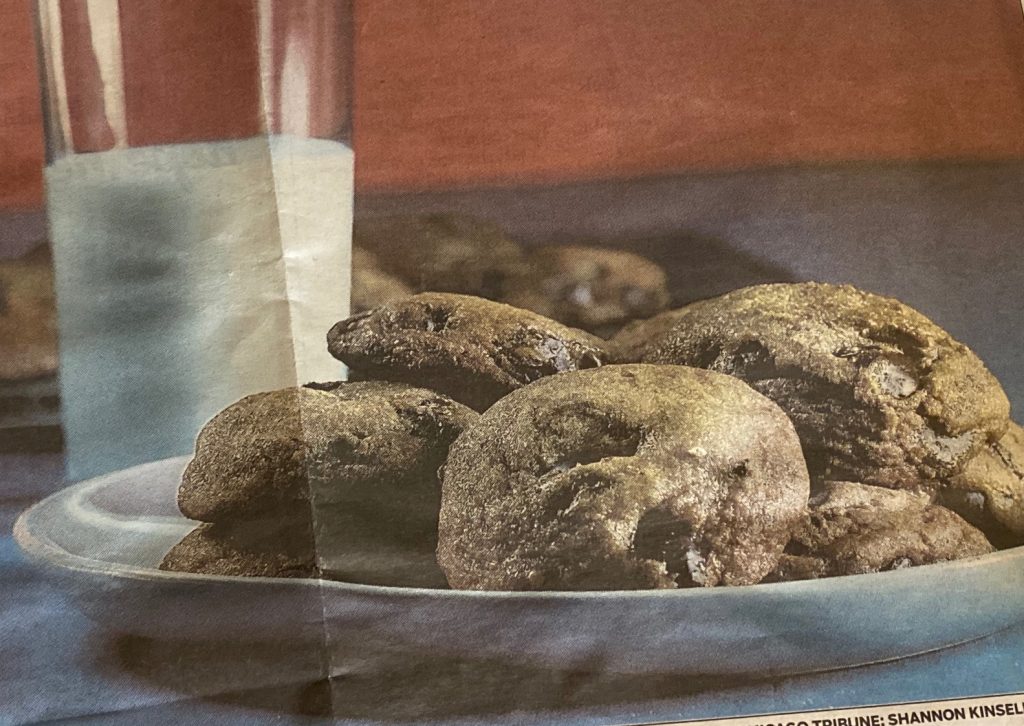 Prep Time: 2 hour(s) 15 min
Cook Time: 16 min
Number of Servings: 32
Brief Description
Bittersweet chocolate chip cookies; dough is frozen before baking.
Number of Servings:
Only quantities of ingredients are changed; recipe Directions below will not reflect those changes.
Ingredients:
1 1/2 cups - dark brown sugar
2 sticks - unsalted butter (2 sticks = 1 cup), cut up
2 - whole eggs
1 - egg white
2 teaspoons - vanilla
1 teaspoons - (heaping) kosher salt
1 teaspoons - baking soda
2 1/4 cups - flour
1 bags - 10 oz. bittersweet chocolate chips or disks
Directions:
Note: To melt the butter, do not use a pan with a dark bottom, otherwise you will not be able to see the brown bits.
Measure brown sugar into a mixing bowl.
Settle butter in a medium saucepan. Set over medium heat. Butter will melt, foam and - after another 5 minutes or so - brown. When the bottom of the pan is speckled with brown bits, scrape butter and bits over the sugar in the bowl. Stir.
Stir in, one at a time, in order: eggs, egg white, vanilla, salt, baking soda, flour.
Let dough rest until no longer hot (to avoid melting chocolate). Stir in chips or disks.
Using a 2-tablespoon scoop, scoop out 32 balls of dough. Line them up, shoulder to shoulder, on a parchment-lined baking sheet. Freeze solid, about 2 hours.
When frozen, store dough balls in a zip-close bag.
Bake: At cookie time, line a baking sheet with parchment. Choose the optimum number of cookie balls and settle them on the parchment, leaving 3 inches space between balls. Bake at 325 degrees F on the center rack until shiny on top and just set, 14 to 16 minutes.
Munch warm.
Brief Description
Bittersweet chocolate chip cookies; dough is frozen before baking.
Main Ingredient:
bittersweet chips
Prep Time:
2 hour(s) 15 min
Source
Chicago Tribune, Leah Eskin, January 2019
Print Recipe