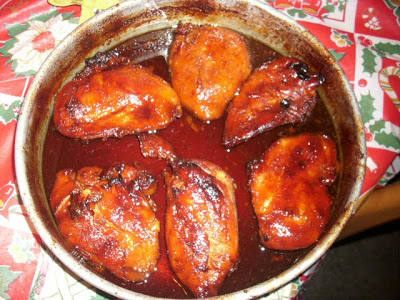 Prep Time: 10 min
Cook Time: 1 hour(s) 30 min
Number of Servings: 8
Brief Description
This recipe reminds me of Korean BBQ
Number of Servings:
Only quantities of ingredients are changed; recipe Directions below will not reflect those changes.
Ingredients:
3 pounds - chicken wings, or boneless, if you prefer
1/2 cups - margarine or butter
1 cups - soy sauce
1 cups - brown sugar
3/4 cups - water
1/2 teaspoons - dry mustard
3/4 teaspoons - garlic powder
Directions:
1) Arrange wings in shallow baking pan.
2) Heat butter, soy sauce, sugar, water mustard and garlic powder if using, until butter and sugar melt.
3) Cool; pour over wings and marinate at least 2 hours, turning once or twice.
4) Drain off half the marinade and bake in same pan at 375F for 60 to 90 minutes, turning occasionally.
Brief Description
This recipe reminds me of Korean BBQ
Cook Time:
1 hour(s) 30 min
Source
http://www.colieskitchen.com/2010/01/betty-whites-chicken-wings.html
Print Recipe