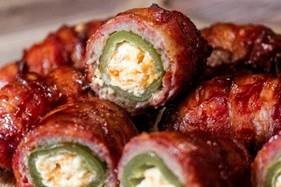 Prep Time: 20 min
Cook Time: 30 min
Number of Servings: 6
Brief Description
Bacon wrapped, cheese filled jalapenos.
Number of Servings:
Only quantities of ingredients are changed; recipe Directions below will not reflect those changes.
Ingredients:
1 pounds - pork sausage
12 slices - bacon
6 - jalapenos, with stems, cores, and seeds removed
4 ounces - cream cheese, softened
4 ounces - shredded cheddar cheese, optional, I don't prefer to use
- toothpicks
Directions:
1. Preheat your oven to 400 degrees F.
2. In a medium bowl, combine the cream cheese and cheddar cheese (if you choose to use cheddar cheese).
3. Spoon some of the cream cheese mixture into each of the cored and seeded jalapenos. Use the back of the spoon to press the filling all of the way into the jalapeno.
4. Wrap each jalapeno with pork sausage. Use your hands to ensure the sausage is covering the entire jalapeno and roll back and forth into an egg shape.
5. Wrap each sausage covered jalapeno with bacon. It may take two pieces of bacon per armadillo egg. Secure with toothpicks.
6. Place the bacon wrapped armadillo eggs in the oven for 30 minutes.
7. Let cool for around 10 minutes.
8. Serve hot and enjoy!
Brief Description
Bacon wrapped, cheese filled jalapenos.
Main Ingredient:
jalapenos
Print Recipe