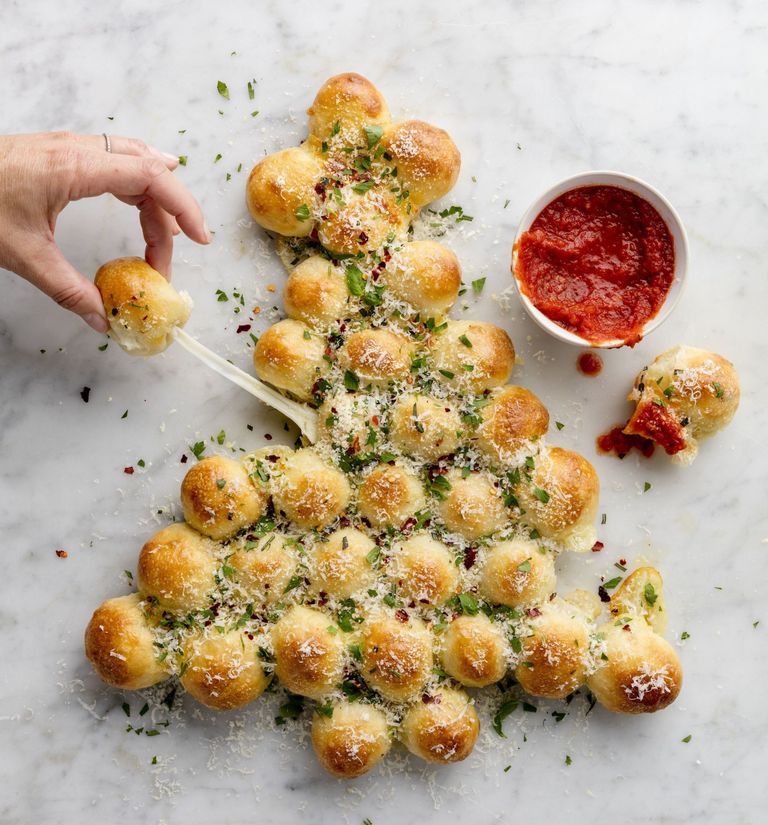 Prep Time: 20 min
Cook Time: 20 min
Number of Servings: 8
Brief Description
Fun holiday treat
Number of Servings:
Only quantities of ingredients are changed; recipe Directions below will not reflect those changes.
Ingredients:
1 pounds - refrigerated pizza dough
- Egg wash, 1 egg whisked with 1 T. water
7 - mozzarella sticks
1/4 cups - melted butter
1/2 cups - finely grated Parmesan
1 tablespoons - basil, thinly sliced
1 tablespoons - parsley, chopped
1 tablespoons - Rosemary, chopped
- Marinara, warmed (for serving)
Directions:
1. Preheat oven to 450°. Line a large baking sheet with parchment paper. Cut mozzarella sticks into 1" pieces and set aside.
2. On a floured surface, divide pizza dough into two pieces. Stretch and roll each piece of dough into a long rectangle, then cut dough into 2" squares (you'll need 33 total).
3. Wrap a dough square around each piece of mozzarella, forming a tightly sealed ball. Place balls seam-side down on the baking sheet in the shape of a Christmas tree (they should be touching). Brush egg wash on dough balls and bake until golden, 15 to 20 minutes.
4. Meanwhile, whisk together melted butter, Parmesan and herbs. Brush on baked pizza balls. Serve warm with marinara for dipping.
Brief Description
Fun holiday treat
Main Ingredient:
Pizza dough
Category:
Source
https://www.delish.com/cooking/recipe-ideas/recipes/a50528/pull-apart-christmas-tree-recipe/
Print Recipe