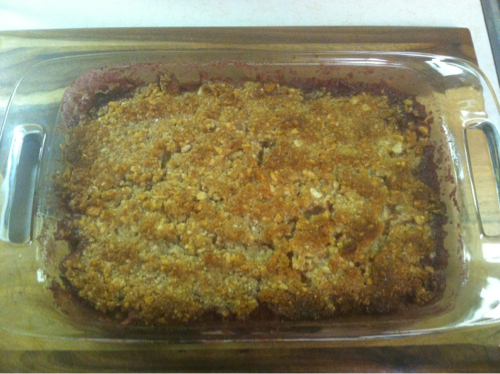 Prep Time: 20 min
Cook Time: 30 min
Number of Servings: 10 servings
Brief Description
sweet and sour, packed with good fats!
Number of Servings:
Only quantities of ingredients are changed; recipe Directions below will not reflect those changes.
Ingredients:
ingredient
1/2 Cup - Raw honey
ingredient
1 1/2 Cups - Almond, Warmed to mix well. Split into two.
ingredient
2 Cups - Walnuts, Pulsed
ingredient
1 Cup - Almond meal, Pulsed
ingredient
1/2 Cup - Pastured butter
ingredient
3 tablespoons - Coconut oil, Softened
ingredient
2 Teaspoons - Cinnamon, Melted
ingredient
Teaspoon - Nutmeg
1 Cup - Blueberries
2 Cups - Strawberries
7 Stalks - Rhubarb, Diced
Directions:
Preheat oven to 375 degrees. Dice rhubarb, and cut up strawberries (if on the large side) and mix with blueberries in a 7 by 11 inch pyrex dish. Warm 1/4 cup honey until pourable and pour over fruit, mix well. In a separate bowl mix nuts, almond meal, butter, coconut oil, cinnamon, nutmeg and 1/4 cup warmed honey, mix well until all incorporated. Spread the nut mixture over the fruit mixture in the pyrex dish. Bake for 30 minutes, check occasionally to make sure top is not burning. Enjoy :)
Brief Description
sweet and sour, packed with good fats!
Main Ingredient:
7 Rhubarb stocks, 1 cup fresh blueberries, 2 cups fresh strawberries
Category:
Cuisine:
Print Recipe