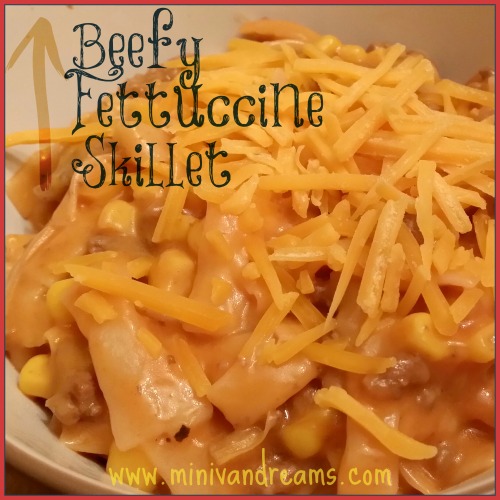 Prep Time: 5 min
Cook Time: 15 min
Number of Servings: 4
Brief Description
A one-skillet dish easy dinner for your family.
Number of Servings:
Only quantities of ingredients are changed; recipe Directions below will not reflect those changes.
Ingredients:
1 pounds - ground beef OR ground turkey
1 1/2 cups - water
1 packages - fettuccine and sauce mix
1 cans - 8-ounce tomato sauce
1 cans - tomato paste, small can
2 teaspoons - chili powder
- Salt and pepper, to taste
1 cans - whole kernel corn, drained
1 cups - low-fat shredded cheddar cheese
Directions:
In a large skillet, cook beef or turkey over medium heat until no longer pink; drain.
Add water; bring to a boil.
Stir in the fettuccine mix, tomato sauce, tomato paste, salt, pepper, and chili powder. Return to a boil.
Reduce heat; simmer, uncovered, for 7 minutes or until thickened.
Stir in corn and ¾ cup cheese; heat through.
Sprinkle with remaining cheese prior to serving.
Brief Description
A one-skillet dish easy dinner for your family.
Main Ingredient:
fettuccine
Notes
Nutrition calculated using ground turkey and is provided for reference only. Please recalculate based on your specific ingredients.
Calories: 399 Fat: 17.4 Saturated fat: 4.1 Trans fat: .2 Sugar: 5.1 Sodium: 833 Fiber: 2.5 Protein: 42.6 Cholesterol: 124
Source
http://www.minivandreams.com/beefy-fettuccine-skillet/
Print Recipe