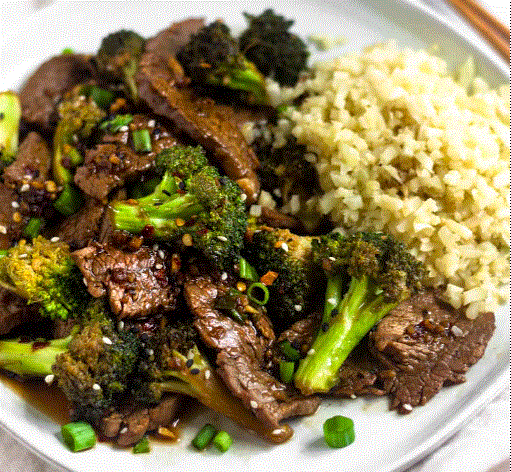 Prep Time: 15 min
Cook Time: 15 min
Number of Servings: 2
Brief Description
Ingredients
• 1 pound of raw beef round steak, cut into strips. (You want 10 ounces cooked)
• 1 tablespoon and 2 teaspoon low sodium soy sauce
• 1 Splenda packet (optional)
• ½ cup water
• 1/1/2 cups broccoli florets (should yield 1 cup cooked)
• 1 teaspoon sesame or olive oil
• 2 cups cooked, grated cauliflower or frozen riced cauliflower
Number of Servings:
Only quantities of ingredients are changed; recipe Directions below will not reflect those changes.
Directions:
* Toss steak with soy sauce and let sit 15 minutes.
* Heat oil over medium high heat and stir fry beef for about 5 minutes or until browned. Remove from pan.
* Add broccoli, water, and Splenda. Cover and cook 5 minutes or until broccoli is starting to turn tender, stirring occasionally.
* Add beef back in and warm thoroughly. Serve over cauliflower rice.
Brief Description
Ingredients
• 1 pound of raw beef round steak, cut into strips. (You want 10 ounces cooked)
• 1 tablespoon and 2 teaspoon low sodium soy sauce
• 1 Splenda packet (optional)
• ½ cup water
• 1/1/2 cups broccoli florets (should yield 1 cup cooked)
• 1 teaspoon sesame or olive oil
• 2 cups cooked, grated cauliflower or frozen riced cauliflower
Main Ingredient:
beef, cauliflower
Notes
Should make 2 servings
Print Recipe