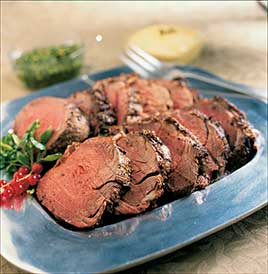 Prep Time: 30 min
Cook Time:
Number of Servings: 5
Brief Description
Awesome - reversed method really works
Number of Servings:
Only quantities of ingredients are changed; recipe Directions below will not reflect those changes.
Ingredients:
1 - Beef Tenderloin , about 2 lbs
2 teaspoons - Kosher Salt
1 teaspoons - Black Pepper
2 tablespoons - Butter
1 tablespoons - Vegetable Oil
- Compound Butter
Directions:
1. Using 12-inch lengths of twine, tie roast crosswise at 11/2-inch intervals. Sprinkle roast evenly with salt, cover loosely with plastic wrap, and let stand at room temperature 1 hour. Meanwhile, adjust oven rack to middle position and heat oven to 300 degrees.
2. Pat roast dry with paper towels. Sprinkle roast evenly with pepper and spread unsalted butter evenly over surface. Transfer roast to wire rack set in rimmed baking sheet. Roast until instant-read thermometer inserted into center of roast registers 125 degrees for medium-rare, 40 to 55 minutes, or 135 degrees for medium, 55 to 70 minutes, flipping roast halfway through cooking.
3. Heat oil in 12-inch heavy-bottomed skillet over medium-high heat until just smoking. Place roast in skillet and sear until well browned on four sides, 1 to 2 minutes per side (total of 4 to 8 minutes). Transfer roast to carving board and spread 2 tablespoons flavored butter evenly over top of roast; let rest 15 minutes. Remove twine and cut meat crosswise into ½-inch-thick slices. Serve, passing remaining flavored butter separately.
Brief Description
Awesome - reversed method really works
Cook Time:
Print Recipe