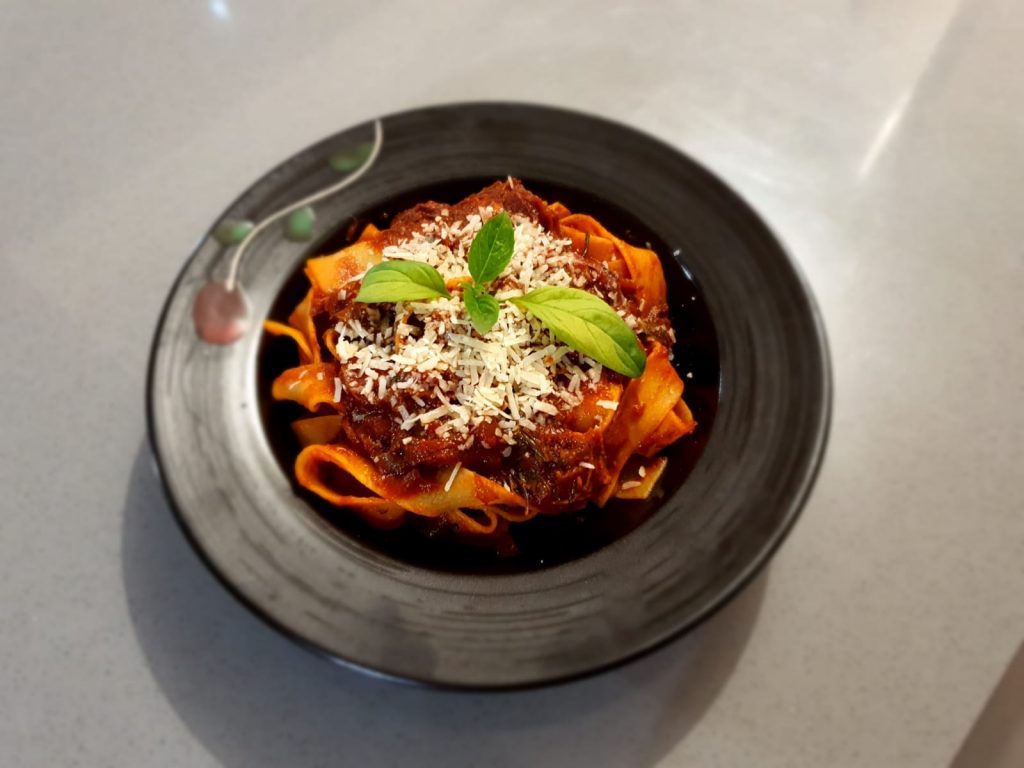 Prep Time: 10 min
Cook Time: 5 hour(s)
Number of Servings: 5
Brief Description
Fall apart slow cooked beef cheek ragu with pappardelle
Number of Servings:
Only quantities of ingredients are changed; recipe Directions below will not reflect those changes.
Ingredients:
2 - Beef cheeks, trimmed and halved
2 - Bacon rashers, diced
2 tablespoons - Olive oil
1 - Large Spanish onion, diced
6 - Garlic cloves, crushed
2 - Rosemary stalks
1/2 bunches - Thyme, fresh or dried
1 1/4 cups - Red wine
1 jars - good quality Passata
1/2 cups - Basil leaves, chopped
- Parmesan cheese, to garnish
- Parsley , to garnish
- Pappardelle
Directions:
-Coat beef cheeks with oil and season well with salt
-In a large saucepan, cook beef cheeks and bacon on medium-high heat in batches until brown all over. Remove and set aside.
-Reduce to medium heat, add onion and garlic and cook until soft.
-Add rosemary, thyme and wine. Simmer until reduced by half
-Add whole jar of passata, then fill the bottle with approx 100-150mls, replace lid and shake until clean. Add water to saucepan with beef cheeks and bacon. Season and bring to boil.
-Pour ragu into slow cooker on high. Cook for approx 4 hours.
-Remove beef cheeks and using 2 forks, tear beef cheeks into desired size ( they should be soft and falling apart with little effort!)
-Return beef cheeks into slow cooker and stir in basil.
-Cook pasta as per instructions until almost al dente.
-Whilst pasta is cooking, transfer half of ragu into a deep fry pan with heat on low.
-Once pasta is almost al dente drain and transfer half into fry pan with ragu sauce. Toss to combine and transfer to plate.
-Garnish with parmesan cheese and parsley if desired.
Brief Description
Fall apart slow cooked beef cheek ragu with pappardelle
Main Ingredient:
Beef Cheeks
Source
Adapted from a few recipes put together
Print Recipe