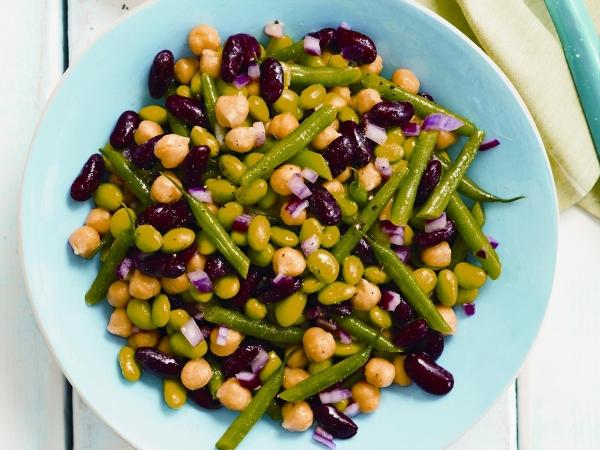 Prep Time: 25 min
Number of Servings: 8
Brief Description
Healthy version of bean salad
Number of Servings:
Only quantities of ingredients are changed; recipe Directions below will not reflect those changes.
Ingredients:
6 tablespoons - chopped red onion
4 tablespoons - red wine vinegar
4 - thin green beans, trimmed
2 tablespoons - Dijon mustard
2 tablespoons - honey
2 tablespoons - extra virgin olive oil
2 cups - shelled cooked edamame (about 10 oz.)
1 cans - (15 oz) dark kidney beans, rinsed and drained
1 cans - chickpeas, rinsed and drained
Directions:
1. Combine onion with 3 Tbsp of the vinegar in small bowl and let stand 15 minutes to pickle. Cook green beans in boiling salted water until tender, 3 minutes. Drain, rinse under cold water, and cut into thirds.
2. Whisk together mustard, honey, oil, and remaining 1 Tbsp vinegar in large bowl. Stir in pickled onion mixture.
3. Add cooked green beans, edamame, kidney beans, and chickpeas. Toss together until well combined. Season to taste. (Makes 6 cups.)
Brief Description
Healthy version of bean salad
Notes
NUTRITION (per serving) 164 cal, 9 g pro, 22 g carb, 6 g fiber, 6 g sugars, 7 g fat, 1 g sat fat, 260 mg sodium
Source
Prevention, July 2013
Print Recipe