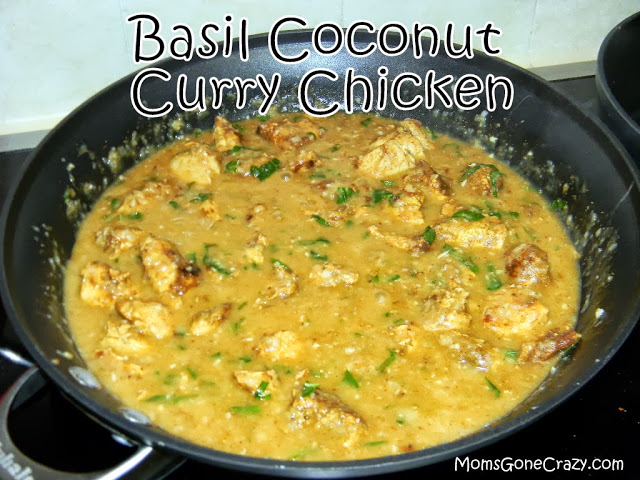 Prep Time: 1 hour(s)
Cook Time: 20 min
Number of Servings: 5
Brief Description
Chicken cooked up in a coconut curry sauce with fresh basil.
Number of Servings:
Only quantities of ingredients are changed; recipe Directions below will not reflect those changes.
Ingredients:
2 - boneless skinless chicken breasts
2 tablespoons - curry powder
2 teaspoons - chili powder
1/2 - large onion, minced
5 cloves - garlic, minced
1 tablespoons - olive oil or coconut oil
1 cans - (13 1/2 ounce) unsweetened coconut milk
1 tablespoons - cornstarch
3 tablespoons - snipped fresh basil
1 tablespoons - finely chopped ginger root or 1 teaspoon ground ginger
1 - jalapenos (seeded and diced), optional
- hot cooked rice
- fresh basil for garnish
- salt & pepper  
Directions:
Rinse chicken, pat dry. Cut into 1" pieces. Place in medium bowl. Sprinkle curry powder and chili powder, and 1/4 teaspoon of salt and pepper over chicken, toss to coat.
Cover and let stand at room temperature for 30 minutes or in fridge for 1 to 2 hours.
In a large nonstick wok or skillet, saute onion, garlic and jalapeno (if desired) in hot oil over medium heat for 2 minutes. Remove onion mixture and set aside.
Add the chicken to the wok or skillet. Cook and stir 2 to 3 minutes or till chicken is tender and no pink remains. Remove from skillet.
Stir together coconut milk and cornstarch. Carefully add to wok or skillet. Cook and stir till thickened and bubbly.
Return chicken and onion mixture to skillet. Stir in snipped basil and ginger root. Cook and stir about 2 minutes more or till heated through.
Serve over rice, farro, or other grain of choice. Garnish with fresh basil, if desired. Enjoy!
Brief Description
Chicken cooked up in a coconut curry sauce with fresh basil.
Source
http://alottabitcrazy.blogspot.com/2013/07/basil-coconut-curry-chicken.html
Print Recipe