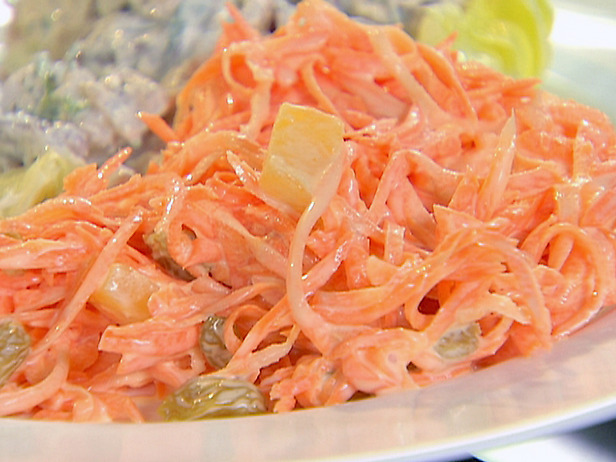 Prep Time: 20 min
Number of Servings: 3
Brief Description
Carrot Salad
Number of Servings:
Only quantities of ingredients are changed; recipe Directions below will not reflect those changes.
Ingredients:
1/3 cups - Golden Raisins
1 pounds - Carrots
2 tablespoons - Lemon juice, freshly squeezed
1/4 cups - Sour Cream
1/4 cups - Mayonnaise
3 tablespoons - Sugar
1/2 teaspoons - Salt
1/3 cups - Pineapple, fresh, diced
Directions:
Place the raisins in a small bowl and cover with boiling water. Allow to sit for 5 minutes and ten drain.
Fit a food processor with the grating blade. Cut the carrots in half and place in the feed tube so they are lying on their sides. Process in batches. Place the grated carrots in medium bowl, add the lemon juice and toss.
For the dressing, whisk together the sour cream, mayonnaise, sugar and salt. Pour the dressing over the carrots and add the pineapple and raisins. Toss together and serve.
Brief Description
Carrot Salad
Source
Ina Garten, 2007 http://www.foodnetwork.com/recipes/barefoot-carrot-salad-recipe/index.html
Print Recipe