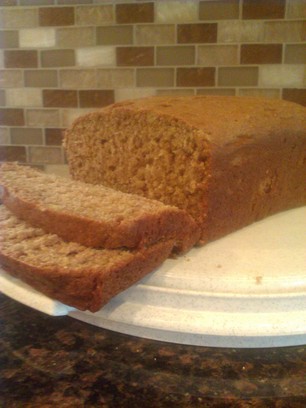 Prep Time: 20 min
Cook Time: 1 hour(s) 10 min
Number of Servings: 12
Brief Description
Banana bread with sour cream which keeps it nice and moist!
Number of Servings:
Only quantities of ingredients are changed; recipe Directions below will not reflect those changes.
Ingredients:
2 cups - flour
1 teaspoons - baking powder
1/2 teaspoons - baking soda
1/2 teaspoons - salt
2 1/2 teaspoons - cinnamon
1/2 cups - unsalted butter, softened
1/2 cups - brown sugar
1/2 cups - white sugar
2 whole - eggs, room temperature
1 teaspoons - vanilla extract
1 cups - mashed banana (about 3 whole)
1/2 cups - sour cream
Directions:
Heat oven to 325°. Prepare a 5"x9" loaf pan by spraying or lining with waxed paper draped over sides.
Sift together flour, baking powder, baking soda, salt and cinnamon in medium bowl.
In large bowl, cream butter, then gradually add sugar, scraping sides of bowl as necessary. Add eggs one at a time, beating well after each. Next, add vanilla and blend briefly. Set both bowls aside.
In another bowl, mix sour cream and mashed bananas. Blend a third of dry mixture into butter-sugar mixture. Add remainder of ingredients to butter-sugar bowl in this order, blending after each addition: half banana mixture, half remaining dry mixture, rest of banana mixture, rest of dry mixture.
Scrape batter into prepared pan and bake on center rack until tester inserted deep in center of bread comes out clean (about 70-75 minutes). Transfer to cooling rack and cool in pan for about 20 minutes. Remove from pan and cool completely for easiest slicing.
Brief Description
Banana bread with sour cream which keeps it nice and moist!
Cook Time:
1 hour(s) 10 min
Notes
I have made this without the sour cream, increasing bananas to compensate. I've also used applesauce instead of butter. Original recipe called for all white sugar and no cinnamon. You can add in chocolate chips, dried cranberry pieces, or nuts before putting in pan to bake.
Print Recipe