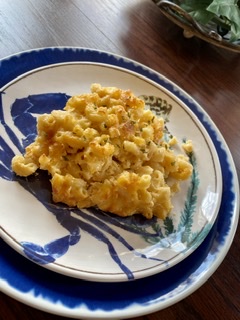 Prep Time: 15 min
Cook Time: 35 min
Number of Servings: 6
Brief Description
Delicious and simple recipe for homemade baked macaroni and cheese.
Number of Servings:
Only quantities of ingredients are changed; recipe Directions below will not reflect those changes.
Ingredients:
1/2 pounds - macaroni elbow pasta
3 tablespoons - butter
3 tablespoons - all-purpose flour
1/2 teaspoons - smoked paprika
1/2 teaspoons - onion powder
2 cans - (12-ounce each) evaporated milk OR 24 oz. half-and-half
3 cups - shredded extra-sharp cheddar cheese, divided
1/4 cups - freshly grated Parmesan
- salt and pepper, to taste
Directions:
Preheat oven to 400 degrees F and grease a 2-quart baking dish.
In a large pot of boiling salted water, cook pasta according to package instructions; drain well.
Meanwhile, melt the butter in a large skillet over medium-high heat; whisk in the flour, smoked paprika and onion powder and whisk until mixture is lightly browned, about 1 minute or so.
Lower heat to medium and gradually whisk in evaporated milk (and / or half-and-half) until slightly thickened, about 5-8 minutes.
Remove from heat. Stir in 2 cups of the cheddar cheese and the Parmesan.
Stir in pasta and season with salt and pepper to taste.
Pour mixture into prepared baking dish (or divide mixture into 5 (10-ounce) or 6 (8-ounce) ramekins for individual servings and place ramekins on a baking sheet).
Sprinkle with remaining 1 cup cheddar cheese. Bake until golden brown, about 20-25 minutes.
Serve immediately, garnished with chives, if desired.
Brief Description
Delicious and simple recipe for homemade baked macaroni and cheese.
Main Ingredient:
sharp cheddar cheese
Notes
I used one can of evaporated milk and then 12 ounces of half-and-half since that is what I had. Do not use regular milk as a substitute as it doesn't bake up well.
Source
adapted from https://damndelicious.net/2019/02/27/baked-mac-and-cheese/
Print Recipe