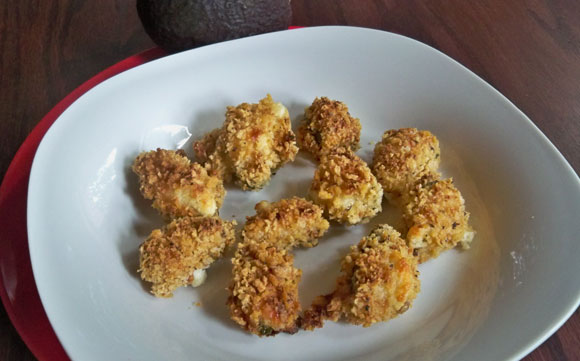 Prep Time: 1 hour(s)
Cook Time: 30 min
Number of Servings: 24
Brief Description
These are so delicious, no one will notice they're not deep fried, but baked!
Number of Servings:
Only quantities of ingredients are changed; recipe Directions below will not reflect those changes.
Ingredients:
12 - fresh jalapeno peppers, halved lengthwise, stems, seeds, membranes removed
6 ounces - cream cheese, softened
1 1/2 cups - Monterey Jack, mozzarella, or Mexican blend cheese, grated
1/2 teaspoons - ground cumin
1/4 teaspoons - cayenne, or less, to taste
2 - large eggs
2 tablespoons - milk
8 teaspoons - Emeril's Essence seasoning, or your favorite spicy seasoning
1 cups - panko bread crumbs
1/2 cups - all-purpose flour
Directions:
Preheat the oven to 350 degrees F. Lightly grease a baking sheet and set aside.
In a bowl, cream together the cream cheese, shredded cheese, cumin, and cayenne.
In a small bowl, beat together the eggs, milk, and 2 teaspoons of the Essence.
In a shallow dish, combine the panko crumbs and remaining 4 teaspoons of Essence.
In a third dish, combine the flour and remaining 2 teaspoons of Essence.
Spread 1 tablespoon of the cheese mixture into the middle of each jalapeno half. One at a time, dredge in the flour, dip into the egg mixture, then dredge in the panko crumbs, pressing to coat. If necessary, repeat the process.
Place the coated peppers, cut side up, on the prepared baking sheet and bake until the filling is runny and the crust is golden, about 30 minutes.
Remove from the oven and serve immediately.
Brief Description
These are so delicious, no one will notice they're not deep fried, but baked!
Main Ingredient:
jalapeno peppers
Notes
I made these with some very small home-grown jalapenos, but it was still delicious and the bite-size was nice.
Source
adapted from Emerils.com
Print Recipe