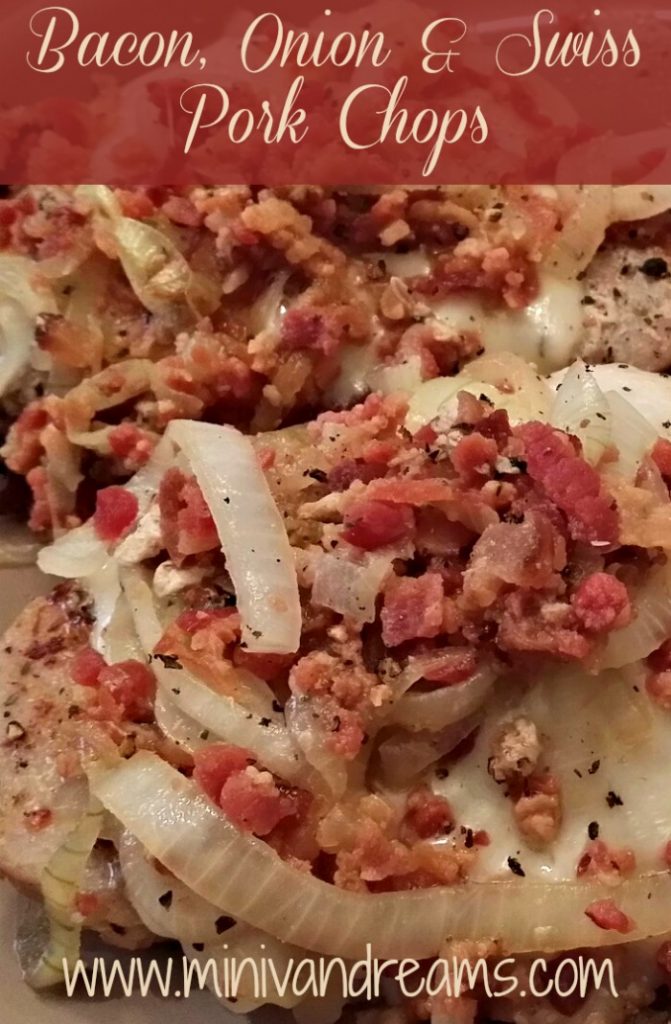 Prep Time: 10 min
Cook Time: 20 min
Number of Servings: 4
Brief Description
Pork chops topped with bacon, onion, and Swiss cheese.
Number of Servings:
Only quantities of ingredients are changed; recipe Directions below will not reflect those changes.
Ingredients:
4 - pork loin chops, boneless (about 1 lb)
1 - large onion, sliced
4 slices - all-natural Swiss cheese
4 slices - uncured bacon, diced
1 tablespoons - olive oil
- Ground pepper, to taste
- Salt, to taste
Directions:
Broil pork loin chops for 5-6 minutes per side, approximately 4-5 inches from heat. Pork should no longer be pink and internal temperature should be 145 degrees F.
Meanwhile, heat olive oil in skillet on medium heat.
Add bacon pieces and onion to skillet, separating onion rings into individual pieces.
Continue to cook onion and bacon until onion is translucent and bacon is done.
Remove pork from oven, place 1 slice of Swiss cheese on each pork loin chop. Allow to melt slightly.
Divide onion and bacon mixture evenly over each chop.
Brief Description
Pork chops topped with bacon, onion, and Swiss cheese.
Main Ingredient:
pork chops
Notes
Nutrition calculated using Spark People's Recipe Calculator and is provided for guidance only. Please recalculate using your specific ingredients.
Serving size: 1 chop Calories: 310.3 Fat: 16.5 Saturated fat: 7.6 Carbohydrates: 3.2 Sugar: 0.0 Sodium: 224.1 Fiber: .7 Protein: 31.3 Cholesterol: 87.5
Source
http://www.minivandreams.com/bacon-onion-swiss-pork-chops/
Print Recipe